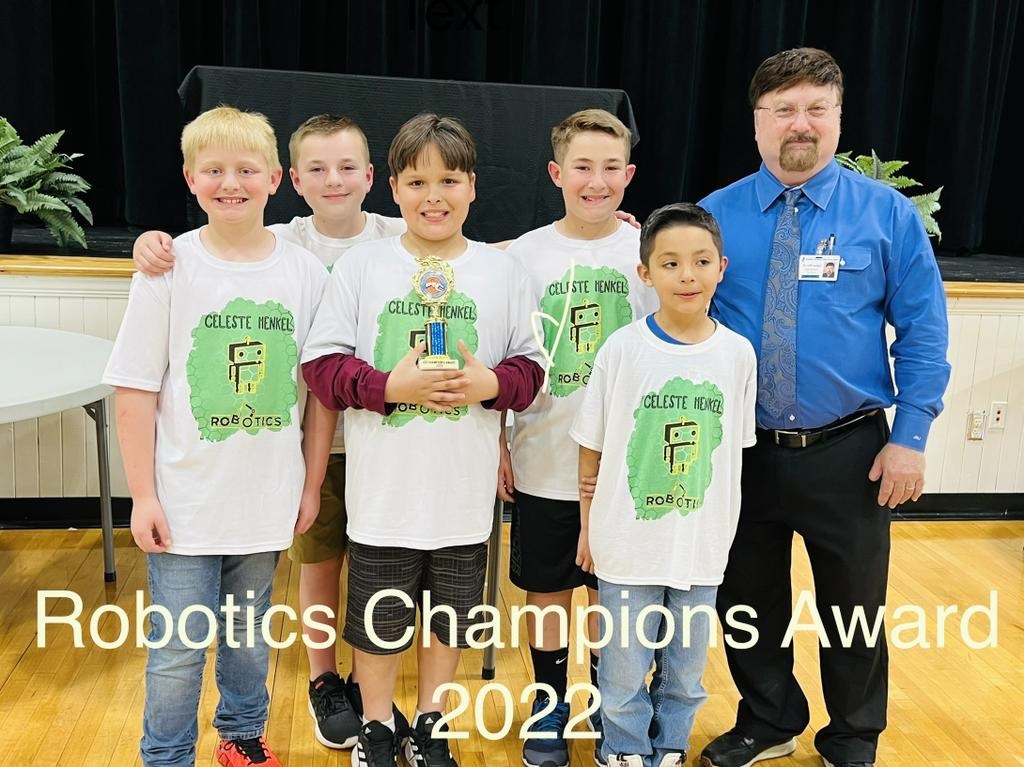 BY KARISSA MILLER
About 40 teams from Iredell-Statesville Schools elementary schools showed off their problem-solving, programming and engineering skills recently at the district's recent robotics tournament in Statesville.
Celeste Henkel Elementary had four teams compete with two teams winning big awards. Team LEGO Extreme captured the Programming Award and Team J-JAKE received the Grand Championship Award for 2022.
The award recognizes a team that embodies the First Lego League core values while demonstrating excellence and innovation in both the robot game and project presentation to judges.
Students were treated to an outdoor ice cream party with all the toppings, whipped cream, chips and other sweet snacks.
Coaches Laura Caldwell, Crystal Caudle and retired teacher Barbee Ervin also recognized all students individually with awards and certificates.
"I'm so proud of them. They are thinkers. They think of how they are going to fix it. We don't fix it for them. They did everything themselves," Caldwell said.
The students are very hard-working and self-motivated, Caudle explained. "One thing I like the most is they help each other with whatever they need even if they aren't on their team," she added.
TEAM J-JAKE
Team J-Jake, who were the overall winners, stands for Jacob, Jayden, Ace, Kelan, and Ethan. Students Ace Elmy and Ethan Waugh were the only two returning members of the robotics team and emerged as leaders.
"I was very nervous (with all newcomers), but these two boys really stepped up for me. We try and teach them a lot of the core values — as far as learning and sharing — and we competed almost weekly once they got their robots built on Thursdays," Caldwell said.
She said practicing against each other allowed them to get a feel for what the district competition would be like, allowing them to "win graciously and not win graciously."
Elmy, the team leader, is a calming force on the team.
"I knew what to expect and I didn't get stressed out," he said.
He defines being a good leader as, "not bossing people around, being nice, letting other people do things and not doing it all for yourself and sharing."
"We got 200 points our first robot run. Normally we get 140 points," said Waugh. "We hit every mission we had and an extra."
While in the competition, Jayden Ramirez said it was really stressful to talk in front of the judges. However, when one team member froze, Ramirez helped encourage his team by giving him a small nudge.
"It feels good (to win). Sometimes you brag about it at home so you get some respect," he said.
"When we heard Celeste, we were like 'Wow!' Then once they said, 'J-Jake,' we were like 'Wow!' " Waugh recalled.
Team member Jacob Bryson was a newcomer who joined later in the school year. However, Caldwell said he caught on quickly and the team changed the name to J-Jake.
"I wasn't sure about robotics, but once I saw what was involved, I really liked it," Bryson said.
TEAM LEGO Extreme
Team LEGO Extreme members are Xavier McInnis, Devin Marsh, Cody Caskadden, Kam Hall and Bentley Robinette. They said that robotics teaches you how to collaborate, work together as a team, good sportsmanship, persevere and not to fight or argue.
Some students said that participating in robotics is a great way to make new friends and learn how to problem solve on a deadline.
Fourth-grader Aiden Richards, who was on team Wolfpack, said he was very excited about doing robotics again next year. Being on a team has been a fun experience, he said, and he was enjoying every minute of the celebration Thursday.
Caldwell said a special thanks to the all of the parents and EnergyUnited who funded her with a grant to purchase robots. She said that without outside grants from EnergyUnited and Donor's Choice these opportunities wouldn't be possible for students.
Next year, she hopes to take students to the LEGO sanctioned contest and has already started fundraising efforts. Individual and community sponsors are needed and any help is greatly appreciated.
Photos