Special to Iredell Free News
The Rev. Robert W. Lee, local pastor and activist, will be inaugurated into the Morehouse College Board of Preachers in the Martin Luther King Jr. College of Ministers and Laity. This auspicious group of scholars and preachers from various denominations and walks of faith assembles on the campus of Morehouse College yearly.
Dean Lawrence Carter Sr. is the Founding Dean of the Martin Luther King Jr. International Chapel at Morehouse and convenes the Board of Preachers.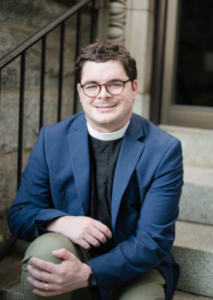 "I have had the privilege of preaching in pulpits from Los Angeles to Cambridge to Paris, and this is a testament to the work that God is doing in my life and the life of the Church here in Statesville," Lee said. "Every time I take the pulpit in these far-off places, I take Statesville with me. I take the lessons I learned here with me. The work of this Board of Preachers is renowned, and I intend to continue its legacy and the work of preaching in communities that need a good and righteous word."
A native of Statesville. Lee is a graduate of Appalachian State University and Duke University Divinity School. He is the author of three books with two more in the publication process.
Lee has lectured and preached at Harvard University, Rockefeller Chapel at the University of Chicago, The Law School at the University of Chicago, Arizona State University, St. Michael's College, Union Theological Seminary in Richmond, Union Theological Seminary in New York City, Foundry United Methodist Church in Washington, D.C., First Presbyterian in Birmingham, Ala., and the American Cathedral in Paris. Lee testified before Congress in 2020 and has advised such politicians as Beto O'Rourke, and contributed devotional material to the current First Lady Dr. Jill Biden and President Joseph R. Biden Jr.
Lee attends Broad Street United Methodist Church in downtown Statesville. He is married to Stephanie Lee and the father of Athena and Phoenix Lee.