BY MIKE FUHRMAN
An Iredell County physician is helping care for Ukrainian refugees who have fled across the border to Moldova.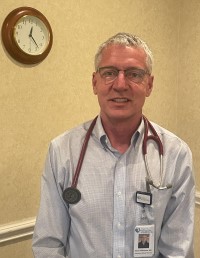 Dr. Steven Williamson is volunteering his services through Medical Teams International.
After flying to the region on Friday, Williamson will spend the next three weeks working with a nurse in one of five Refugee Accommodation Centers near the Ukrainian border.
More than 370,000 Ukrainians have crossed into Moldova, a small country with a population of 3 million, since the Russian invasion and bombardment began on February 24. As many as 100,000 refugees have remained in Moldova while the rest have continued on to other European countries.
Like many physicians, Williamson feels called to help people who have urgent medical needs who do not have access to care.
"Somebody needs to try to help a little bit those that have greater needs," he said during an interview before leaving for Moldova.
Based on information he received from Medical Teams International, Williamson expects to spend his time treating elderly patients — and women and children — who have chronic conditions such as diabetes who may not have had access to their medication since the war began. There are also reports of babies battling pneumonia, he said.
Williamson is semi-retired and works part time for Hospice & Palliative Care of Iredell County at the Gordon Hospice House in Statesville.
He has volunteered his services throughout his career, treating low-income patients at a free clinic in Davidson for 15 years. Since "retiring" in 2015, he's also traveled to Uganda, Ecuador and Kurdistan to provide medical care for those in need. He's seen firsthand the toll that military conflict can have on people.
His wife Denise and their grown children were a bit apprehensive about his latest trip abroad.
They said, "We're proud of you for going, but we wish you weren't," Williamson shared.
His mantra in life is "Do a Little Good," which is the name he gave the nonprofit he founded to raise money to support his mission.
"If I can say at the end of the road — if my tombstone says, 'Good Father. Good Husband. I did a little good' — I'll be okay with that," Williamson said.