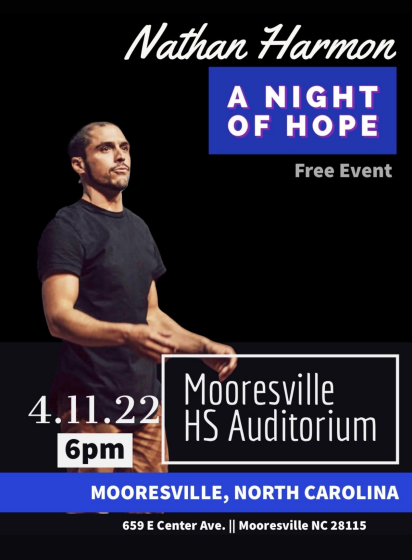 Special to Iredell Free News
The Mooresville Graded School District will welcome Nathan Harmon, founder of Your Life Speaks, to the district on April 11-12. In addition to student sessions at Mooresville Middle School and Mooresville High School during the two days, MGSD will be holding a community event on April 11 at 6 p.m. in the MGSD Performing Arts Center.
The public is welcome to attend free of charge.
Harmon has been the most-booked speaker for schools since 2017. He powerfully addresses navigating and overcoming adversity, addiction, mental health, the power of choice, leadership, character development, bullying and any many topics that young people face.
He shares directly from his own personal experiences in a profound way that truly reaches people of all ages.
Nathan's message comes from a combination of a troubled past and a great desire to help others overcome many of his same struggles. In his younger years Nathan battled divorced parents, suicidal thoughts, self-harm, alcohol and drug addictions, bulimia, and eventually jail.
On July 17, 2009, Nathan was the driver in a drinking and driving accident and from that experience his life was changed forever. Nathan is now over 10 years sober and wants to share hope and a successful future with others.
LEARN MORE
For more information on Your Life Speaks, visit their website at https://www.yourlifespeaks.org/.