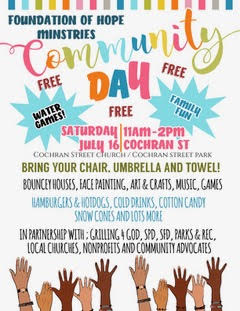 BY DEBBIE PAGE
debbiepage.iredellfreenews@gmail.com
Iredell Homeless Coalition members have a number of exciting initiatives going on this summer, including a Foundation of Hope Community Day at Cochran Street Bible Church, Cochran Street Park, and Columbia Street this Saturday from 11 a.m. to 2 p.m.
The free family activities are focused on the children who live in nearby neighborhoods, Boys & Girls Club invitees, and homeless families staying at the local motels, who received personal invitations.
There will be hamburgers and hotdogs, cold drinks, sno-cones, popcorn, cotton candy, water/splash activities, inflatables, live music, a cupcake walk, bike raffles, balloon tying, dunk tank, bike safety info and bike helmet giveaways, face painting, children's crafts, bounce houses, a drug prevention trailer, and much more.
Participating groups include Statesville police and fire departments, Iredell County EMS, Iredell County Sheriff's Office, the Elks Lodge, Visions Outreach, Cochran Street Bible Church, the Boys & Girls Club, G4G Ministries, I-Care, and the Cove Church.
Foundation of Hope Ministry's Karen Kidd said over 400 invitations were distributed throughout the targeted community for the event. "We are so excited and working hard this week to get the event up and running," she said.
A number of community agencies will be on hand to share information about the variety of services and resources available to the community. Free food and clothing will also be available through Cochran Street Bible Church.
TRANSITIONAL HOUSING UPDATE
The partnership between the Statesville Housing Authority and Fifth Street Ministries to provide transitional housing units for recently incarcerated or those on probation who have no shelter is underway, with three people now housed in one unit and a fourth entering after wheelchair access is solved.
This new option will help these people learn life and employment skills, re-integrate them in the community, and gain employment to become independent and productive society members.
Coalition Chair Pam Navey said there have been "zero problems" in the nearly four months of operation. "This is a model that is working and will continue to grow as the needs arise," she said.
SHA's Donald Hicks said another two units, housing up to eight additional men, are available to the program when needed.
The participants are carefully vetted, must adhere to house rules and meet with their Fifth Street case manager regularly to set goals, check progress on meeting goals, and connect with employment and services. The residents must also be on supervised probation.
The current duplex units, which will eventually house eight people, were stocked with food, supplies, and toiletries, with continuing support from Fifth Street for clothing or other needs. Residents pay 30 percent of their income as rent, which is capped at $400 per month.
Referrals will come from N.C. Probation and Parole. Participants live sober and regularly drug test to ensure a safe living environment for all in the duplex.
Residents have a month-to month rental agreement, with eligibility to live in the transitional housing for up to two years if they follow rules and processes.
The program's goal is to help residents learn life and financial skills, gain employment, and save income for future independent housing and living expenses.
COALITION MEMBER UPDATES
Veterans initiatives are in the planning stages, including a Veterans Court alternative justice option, more veteran-targeted tiny homes, and a program to recruit retiring veterans to enter law enforcement careers.
Navey reminded the attendees that the Troutman National Night Out will be on Tuesday, August 2, from 6 to 9 p.m. at ESC Park in Troutman.
Fifth Street Ministries is now offering free food deliveries to those in need every Wednesday through Door Dash. Contact Fifth Street Ministries at (704) 872-4045 for food delivery or information on how to donate or volunteer in person.
The Path House is in need of donations of tarps, cots that will fit in single tents, bug spray and bug repellant bracelets.
The full Fifth Street Shelter wish list is available on Amazon at https://smile.amazon.com/hz/wishlist/ls/3QGDU5CKWJ1AW?fbclid=IwAR0F-2jh2UQqwBrU-iLys2eRUNkts7EMF8aI-GblPtkYq3CVapfGeV5PL0c. They particularly need full-size body wash, hair conditioner, and lotions for women right now.
Fifth Street recently hired a new lead for its Path House program for the chronically homeless. They are also in the process of hiring a shelter manager and case manager for My Sister's House.
The agency is also planning to add a SOAR position to help those in homelessness or at risk of being homeless to obtain needed documents (birth certificates, social security cards, drivers licenses or state IDs, and to apply for the Social Security Administration's disability programs, Supplemental Security Income (SSI), and Social Security Disability Insurance (SSDI).
Fifth Street's Dan Miglin said the organization is working hard to stay active and work to get the needs of the community met.
Foundry House (https://foundryhouse.org) is currently serving two clients and is expecting two more in August. This facility offers an eight-month residential recovery house that provides the structure and support a man needs to break the cycle of addiction. More spaces are available, and those interested can visit the website for more information.
AUGUST MEETING SET
The next Homeless Coalition Zoom meeting will be Wednesday, August 3, at 10 a.m. Organizations or individuals who would like to get involved to help the community's housing insecure can contact Navey at pnavey@statesvillenc.net to be invited to the meeting.