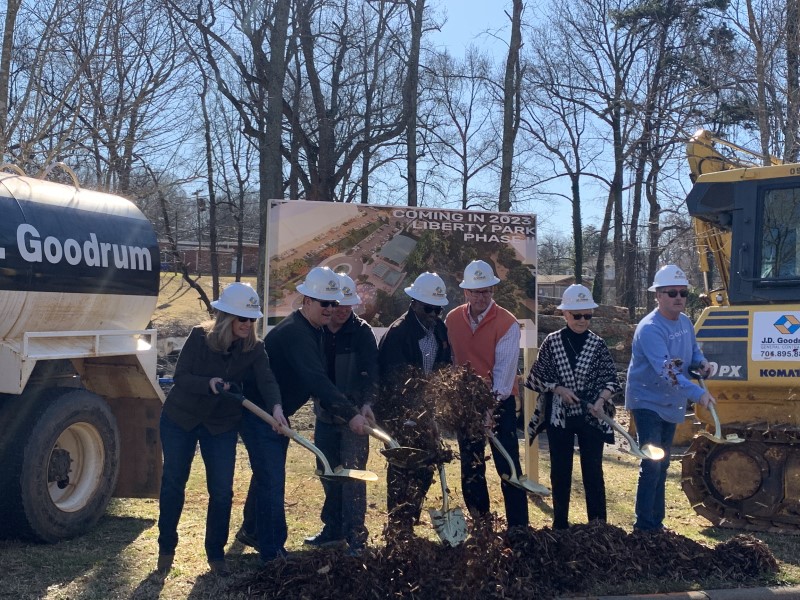 BY BRANDY TEMPLETON
Town of Mooresville officials gathered at Liberty Park on Thursday to celebrate the much-anticipated expansion of the park.
Mayor Miles Atkins, town commissioners, parks and recreation employees, and others attended the ceremonial groundbreaking for the $7.9 million project.
Pam Reidy, director of parks and recreation, expressed "deep and genuine" gratitude to the board of commissioners for approving the project.
"This is a place where residents can gather and feel rooted in their town," she said.
Atkins said called the park "a jewel" for the downtown community and exalted the park's "first-class" amenities.
"It's truly an economic engine and driver for the future," the mayor said. "It's something we're all going to be proud of."
Commissioner Thurman Houston expressed his excitement also.
"It will enhance downtown," he said. "This is for everyone. This is a new legacy for the Town of Mooresville."
"It's going to be the bomb when it's done," Commissioner Gary West added. "You're going to do enjoy it."
Commissioner Bobby Compton closed the ceremony by sharing his memories of the park. He grew up in the area and vividly remembers the construction of the recreation center in the early 1950s and the gym in the 1960s. There was a Putt-Putt course and a Korean War-era Navy Jet to climb on, and frequent carnivals.
Compton umpired at the park and spent a lot of time playing basketball in the gym.
"I have a scar on my lip from the 14 stitches when my lip met an elbow going up for a rebound," he said.
"It's been a big part of my life," he shared.
Wearing a UNC Carolina blue shirt, he asked the crowd if they knew why he was holding his basketball.
"I'm going to be the last one to shoot hoops before that tear down the basketball court," he smiled. "Hopefully, I can get more scars on the new one."
Liberty Park is one of 13 parks in in the Town Mooresville, including several pocket parks.
The Phase II renovations, by JB Goodrum General Contractors, will include a greenway, covered basketball courts, and a playground. Completion is projected for fall of 2023.
Until renovations are complete, the only area open to the public is the bandshell and lawn besides the bandshell. Marketing manager Don Smyle said the area can be accessed through the Veterans Promenade.