BY MIKE FUHRMAN
Mooresville Police Department Chief Ron Campurciani became a little emotional on Tuesday afternoon as he discussed the opening of the new $19 million police headquarters and what it means to the men and women who work for the MPD.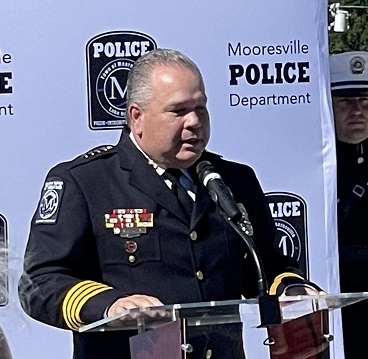 "These people deserve this building. What they've gone through in the last few years — for those of you that know and have been part of it and lived it with them — this is a huge deal for us," the chief said during a ribbon-cutting ceremony that attracted a large crowd of supporters.
"For you, you see brick and mortar and glass and steel. For us, this is our sanctuary. This is our fellowship hall. This is our safe place to land when things don't go well. And they didn't have that before. And they felt that was taken from them."
The new state-of-the-art police headquarters opened earlier this month following four years of planning and construction that coincided with some of the most challenging days in the department's history. Campurciani's predecessor, Damon Williams, resigned in November of 2019 in the midst of an investigation into a toxic workplace and six months after Officer Jordan Sheldon was murdered in the line of duty.
Campurciani, who has worked to rebuild the department's morale since he was hired in November of 2020, thanked Mayor Miles Atkins and the town board for their support of the MPD, saying he had not seen anything to rival it in his long career in law enforcement.
"People talk a lot about supporting the police, doing this, we have your back, we'll always, but … here they don't just say it. They live it."
Investing in the new headquarters, he said, was the latest — and perhaps the greatest — demonstration of that support.
"We don't want certificates. We don't want awards," Campurciani explained. "We just want to know the people we come to work for every day and risk our lives for and miss holidays and birthdays and anniversaries for appreciate what we do.
"This building is sort of the exclamation point to that. We couldn't ask for anything better."
The new MPD headquarters encompasses 50,000 square feet and provides additional communications, evidence, and holding cell space along with a designated K9 building. There is also a community room that will allow for additional community events and engagement without compromising department security.
Mayor Atkins told the crowd that the opening of the new police headquarters marked the "fulfillment of a real need" in the community.
"Not only do we have the space for now, but we will have the space to grow as our town continues to grow," he said. "It is a facility that will accommodate community partnerships and community engagement, a key component of how our police department serves Mooresville."
Mayor Pro Tem Lisa Qualls said the town board's investment in the facility represents the support of the taxpayers of Mooresville.
"We are only the conduit," she said. "So the taxpayers say you do deserve this — and then some."
The new headquarters, she said, sends a strong message that public safety is a priority in the growing town.
"Those that come for good — they know, 'Wow! They're serious about their police department and making sure they are supported,' " she explained.
"For those that come here to do bad, this is an explanation point of 'We're coming for you!' So just turn around and go back out on the highway because these men and women are going to come and get you."
Photo Gallery