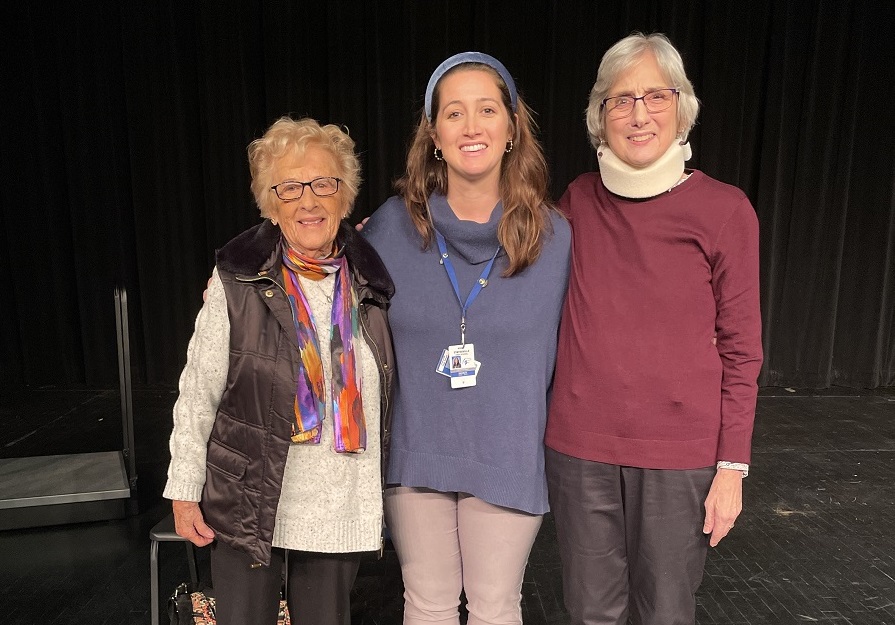 BY KARISSA MILLER
When she was a girl, Margot Lobree lost everything precious to her.
After the events of November 9-10, 1938, when the Nazis carried out a wave of terror against Jews across Germany known as Kristallnacht, Lobree's mother began working to get her children out of the country. Her father had died a year earlier.
Lobree's older brother was sent to Palestine, and in 1939 Lobree's mother put her on a train bound for England. She was one of 10,000 children who escaped the Nazis who are now referred to as Kindertransport Holocaust survivors.
Lobree, now 97, shared her story with about 200 Statesville and West Iredell high school students on Thursday morning at Mac Gray Auditorium.
After boarding that train with children ages 3 months to 17 years old, Lobree never saw her mother again.
"Imagine coming home one day, being a young child and being told that you alone were going to leave your home, your family, your friends, your belongings and go to a foreign country with a foreign language," Lobree told the students. "That's basically what happened to me — I was 13 years old."
In the months before she fled Germany, her life went from being very comfortable to a struggle to exist.
"As children, we had friends one day and then they couldn't speak or play with us the next day because we were Jewish," she said. "If they had spoken or played with us, they would be endangering their families," she added.
After arriving in England, Lobree faced harsh conditions as a refugee. Eventually, she traveled to the United States, where she eventually married and started her own family.
"As an adult, I realized the course of my situation. I was deprived of a loving family. I was deprived of a good education. I was deprived of who I am and how to be an adult in a safe environment. I had to figure out right and wrong. If I did wrong, there was no one to help me," she said.
When Lobree became a mother, she realized that her mother had shown her unconditional love for her and her brother by getting them out of Nazi Germany.
"Her love for us and her strength is indescribable," she said.
After 25 years apart, Lobree was reunited with her brother. Then, in 1996, she was invited to return to her hometown of Frankfurt, Germany, where she was joined by her brother and other family members.
"I was pleasantly surprised" by the way they were greeted by Germans, Lobree said. "We were dealing with another generation. They were not denying what their parents had allowed to happen … we met a generation that was remorseful and wanted us to know that it would never be allowed."
That homecoming trip, she said, was a life-changing experience.
"Holding onto anger and grudges is a waste of energy. It's not productive, but destructive," Lobree told the students.
With the love and support of her husband, Lobree was able to attend college, work as a professional and travel all over the world.
After Lobree shared her story, Lynda Moss, a representative of the N.C. Council on the Holocaust, explained to students that she was a child of immigrants and the daughter of a Holocaust survivor.
She told students that anti-Semitism is often expressed as dislike or hatred towards Jewish people, who are seen as "them."
After Hitler rose to power in 1933 things changed dramatically. Moss said her parents fled to the United States. Few Jews were able to come to the United States because of immigration restrictions but her parents had friends in the states who sponsored them, she said.
"They were lucky. Six million Jews and five million others died in the Holocaust," Moss, now 76, told the students.
One of the reasons she speaks about the Holocaust is because her family never talked about the past and she wanted to know why. The mass killings of the Holocaust occurred until 1945.
"Anti-semitism is rising in the United States and all over the world. I want students like you to understand what can happen when we believe that some people are better than others," she said.
In closing, she encouraged students to "stand up, speak out and act" to ensure history does not repeat itself.
Statesville High teacher Catherine Baker called Thursday program a once-in-a-lifetime opportunity for students to learn about history from someone who live it.
"I think it's vital for us to hear about history and personal stories so we understand perspectives that are different from our own. This is something we need to do in the 21st century," she said.