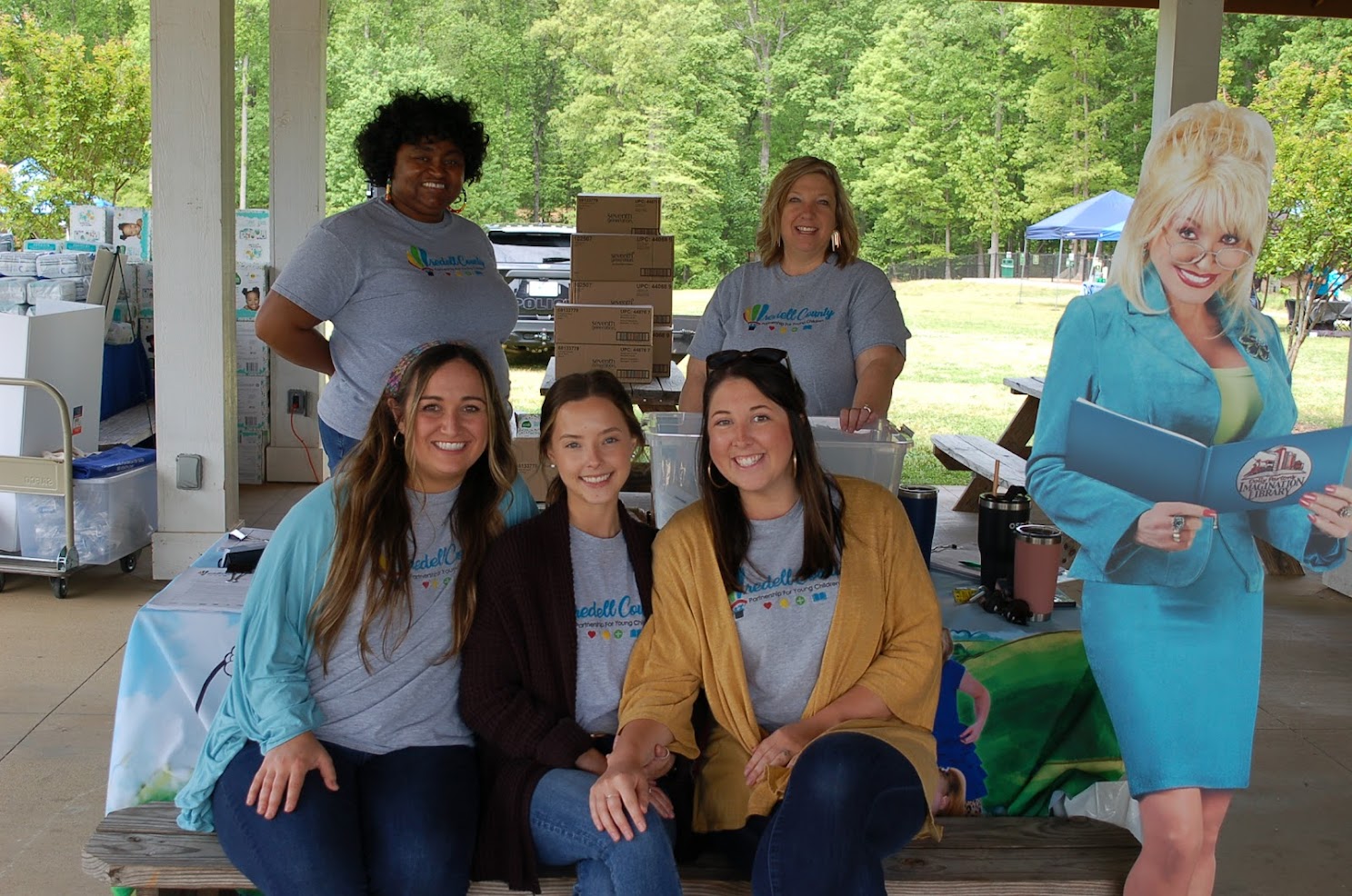 BY DEBBIE PAGE
debbiepage.iredellfreenews@gmail.com
Iredell County Partnership for Young Children's (ICPYC) "Operation Healthy Start" event at Troutman's ESC Park on Saturday brought together a variety of agencies who offer free and low-cost services to expectant and young parents, including a diaper pantry, maternal care, Medicaid assistance, child disability services, reading programs, and medicine lockboxes to keep children safe from accidental ingestion.
ICPYC partnered with Iredell Health System and NC Blue Cross/Blue Shield's Healthy Blue program to sponsor this outreach for new and expecting moms of Iredell County, according to ICPYC Director Lisa Pullis.
"We are trying to give away diapers and wipes and talk about available services for birth to age 5 and all the community resources available. We want to target new moms and parents with all the resources we have to offer."
ICPYC PROGRAMS
ICPYC offers NC Pre-K for 4-year-olds at 26 sites throughout the county. The agency also helps with childcare resources and referrals and offers an early learning resource center for parents to check out books and developmentally appropriate toys for their children.
ICPYC also offers the Dolly Parton's Imagination library program, which provides children one book per month to help them develop a love for reading from an early age.
The agency can also assist in meeting young children's food and clothing needs and make mental health referrals for parents and children.
The Parents and Teachers program offers home visits to help and support caregivers of children under age 5. A social worker visits the home and completes developmental screenings to ensure the children are meeting developmental targets for their age.
The social worker looks at the child's rolling, crawling, and walking skills, the ability to dress and feed oneself, cognitive learning and thinking skills, communication skills (listening, speaking, understanding), and sensory abilities (sight and hearing evaluation).
If developmental problems are evident, the social worker can arrange speech therapy, physical therapy, or other services to help the child get on track before starting school.
The agency is also starting a "#MOMSQUAD" support group for new mothers that will meet on the first and third Wednesday of each month from 10 to 11 a.m. for 8 weeks. Topics will include safe sleep, baby sign-language, secure social-emotional attachment, infant massage, tummy time, and other infant development and care topics.
DIAPER PANTRY
After seeing a "silent crisis" to fund diapers, ICPYC created the Pampered Pantry, which offers a package of diapers or Pull-ups six times per year. "Parents are really struggling. During COVID, we received numerous phone calls for diapers," said Pullis.
"It has just been a huge hit. Right now we are serving 316 families coming to the diaper pantry, and we just expect it to keep growing."
Several churches and organizations have held diaper and wipe collections to donate to the program, which is a huge help in growing the service, according to Pullis.
To access the pantry, those interested can contact Nicole Sutton at 704-878-9980 to set up an appointment to pick up the baby supplies.
IREDELL HEALTH SYSTEM BIRTHPLACE SERVICES
Iredell Health System's Birthplace Program Nurse Pamela Speight and her team, Birthplace Director Sharon Paul and Assistant Director Stevie Gibson, were surrounded by stacks of diapers and wipes, provided through a March of Dimes program started by a Unilever employee to honor and remember her baby, Sophia, whom she lost in her seventh month of pregnancy.
Speight currently teaches Zoom childbirth preparation classes about labor, birth, and relaxation/comfort techniques, all from the comfort of home (phone, laptop, or tablet) as well as breastfeeding and newborn care/infant CPR classes.
Contact Speight at The Birth Place Program Office at 704-878-4555 for the web links. Expectant parents can also contact her for links to view pre-recorded ZOOM meetings or to meet with her individually via Zoom.
IREDELL COUNTY HEALTH DEPARTMENT
Iredell County Health Department's Public Information Officer Sierra Ashworth detailed the many free or low-cost services the department offers, including maternal health, child health, childhood immunizations, Women Infants Children (WIC) program counselors, nutritional counseling, peer lactation support program, and recently expanded NC Medicaid postpartum care for both physical and mental health (postpartum depression) for 12 months after birth.
Ashworth said that although much more is known about postpartum depression now, "it still feels like not enough people are talking about it and that there's not enough resources there for everybody. Any time you can talk about it, it's very important."
PARTNERS HEALTH MANAGEMENT
Partners oversees Medicaid and state dollars designated for people with intellectual developmental disabilities and mental health/substance abuse issues and for integrated, whole person care. "Youth and families in need are very much our focus," said Jerry Campbell, community engagement specialist.
Campbell explained that young parents who suspect early developmental or health issues in their child can contact Partners 24/7 (1-888-235-4673) to get connected to services.
"People don't know how important is to get help in early childhood for things like intellectual developmental disabilities, autism, Down syndrome, or cerebral palsy," Campbell said. "It's important to get them linked when they are very young to avoid the wait for services and to lessen the impact on the child and family.
Partners can assist parents with getting linked to Medicaid and access to all types of services. Campbell noted that children with intellectual developmental disabilities are still eligible for services, even if parents do not financially qualify for Medicaid.
Community members can also search for food, housing, healthcare, employment, financial assistance, transportation, education, and legal assistance resources through Partners "Aunt Bertha" website at http://partnerslink.auntbertha.com.
OTHER EVENT SUPPORTERS
Other supporting agencies and community partners were NC Blue/Cross Blue Shield Healthy Blue (Medicaid health insurance), J. Hoyt Hayes Memorial Troutman Library (reading programs), Drug-Alcohol Coalition of Iredell (child safety medication lockboxes and substance use disorder service referrals), Pam Manser and Associates (speech, occupational, and physical therapy), Pharos (Best Beginnings Infant Parenting workshops and other parenting classes information at pharosparenting.org) and United Way (call 211 or NC211.org to link to food, housing, utilities, and health care assistance).
Photos
​​