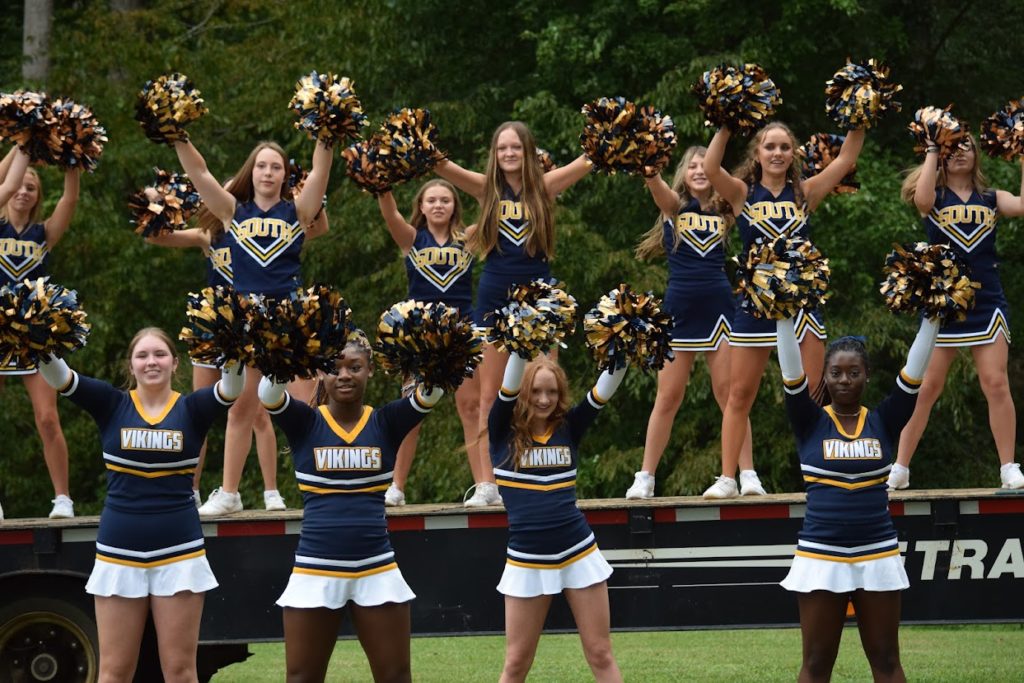 BY DEBBIE PAGE
debbiepage.iredellfreenews@gmail.com
South Iredell High School football offensive line coach Charles Tabor welcomed a crowd of enthusiastic athletes, parents, and fans on Wednesday to what he hopes will be the first of many community pep rallies at ESC Park to celebrate sports teams at the school and to thank the community for its dedication to youth sports.
Tabor, who has coached for 30 years, joined head coach Mitch Johnson's staff this year and wanted to carry this sports season opening tradition with him to SIHS. He organized similar events during previous coaching stints at Lake Norman and Statesville high schools.
"I look forward to starting this tradition at South, which I hope will continue for years to come," he said.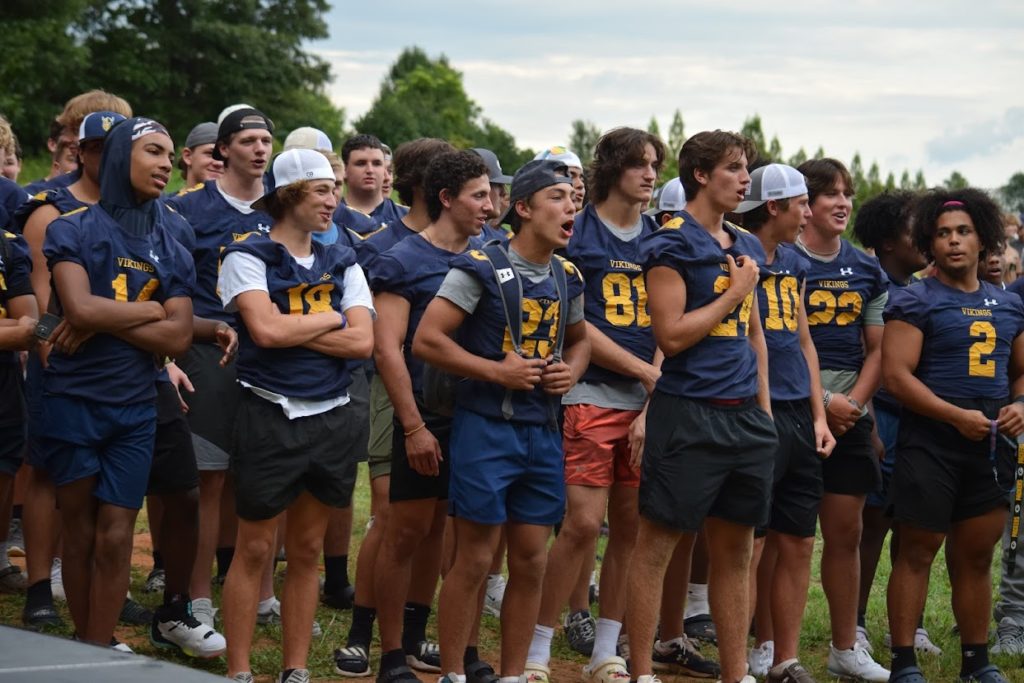 The event's goals were to celebrate and introduce all of the school's sports teams and to build relationships with athletes and families from feeder schools, the Troutman Youth Athletic Association, and the community's fans.
Unfortunately, the volleyball and soccer teams had games and missed the event, and the band had a scheduling conflict as well.
Tabor noted that the coaches encourage all the sports teams, band, and other school groups to support each other and build community. "It's either all of us or none of us," he said.
Tabor said students should encourage each other as all take "their talents and use them to the best of their ability."
Though players are expected to "kick a little butt" on the field, all SIHS coaches insist that student-athletes be ladies and gentlemen off the field. "We're going to do it the right way at South Iredell," he said.
"We just want to give back to the community — from TYAA on up to the high school. It's a great town, and we just wanted to bring something extra that they have never done before and start something new," added Tabor.
Tabor was excited to join Johnson's coaching staff this year. "He 's a great guy. He coaches for all the right reasons."
"We've got a lot of great people leading these young men who are going to change their lives and lead them in the right way."
Coach Johnson said the pep rally helps him reach one of his main goals — to get the community's support. "We want to bring back the pride in South Iredell, and this is part of it."
Johnson has been working toward a vertical alignment of sporting programs that feed student athletes into SIHS to help build great student-athletes and a continually improving and successful program, both on and off the field.
Johnson said getting the SIHS coaching job was nothing short of a blessing. "Everybody has opened up to us and made a home for Darcy and I. There's nothing better than what's going on here."
Town Council Member and SIHS graduate Felina Harris thinks the pep rally "is a great idea. My son is an up and coming freshman. Seeing this new tradition really makes me excited, and I'm glad to be here."
Harris said events like this help bring the community together to support the town's youth. "We've been through the pandemic. We've been closed up, so anything we can do to get the community together and out of their houses I think is just wonderful."
DJ TNice provided the music to get the spirit going and to accompany several dance numbers by the varsity and JV cheerleaders. Coaches and athletes from all sports seasons were introduced to the cheers of the crowd.
The football team will take on North Iredell High Thursday night in its first game of the season. Gates open at 5:30 p.m. with kick-off at 7:30 p.m.
Photos