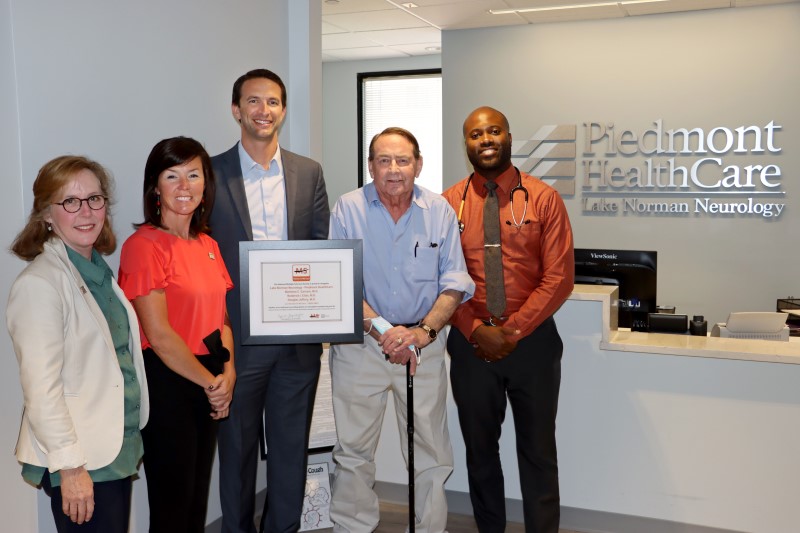 Special to Iredell Free News
Piedmont HealthCare Lake Norman Neurology, a leading provider of care for people living with multiple sclerosis in the Greater Charlotte area, has been recognized as a Partner in MS Care – Neurologic Care through the National Multiple Sclerosis Society's Partners in MS Care program.
This formal recognition honors Piedmont HealthCare Lake Norman Neurology's commitment to providing exceptional, coordinated MS care. Clinicians at the practice continually demonstrate a wealth of knowledge, experience, as well as the important attention to detail necessary in treating people living with MS.
The Society's Partners in MS Care program recognizes committed providers, like Piedmont HealthCare Lake Norman Neurology, whose practices support the Society's initiative of affordable access to high quality MS healthcare for everyone living with MS – regardless of geography, disease progression, and other disparities.
"On behalf of Dr. Douglas Jeffery, Dr. Roderick Elias and myself, we are truly grateful for this partnership and recognition," said Dr. Max Carraro, Multiple Sclerosis specialist with Lake Norman Neurology. "This partnership expands our relationship with the national MS Society and helps patients to seamlessly connect to the specialized care at Lake Norman Neurology. Together, we can broaden the reach and impact of educational programs, support groups, and research opportunities for patients living with MS."
"We are proud to partner with Lake Norman Neurology to enhance quality and dedicated care for the people who live with MS in Lake Norman and the Greater Charlotte area," added Jennifer Phillips, National MS Society, Greater Carolinas. "In earning this recognition, Piedmont HealthCare Lake Norman Neurology has demonstrated extraordinary leadership in MS care, making a tremendous impact on the nearly 1 million people living with MS in our country."
Multiple sclerosis is an unpredictable, often disabling disease of the central nervous system that disrupts the flow of information within the brain, and between the brain and body. Symptoms vary from person to person and range from numbness and tingling, to walking difficulties, fatigue, dizziness, pain, depression, blindness, and paralysis.
The progress, severity, and specific symptoms of MS in any one person cannot yet be predicted, but advances in research and treatment are leading to better understanding and moving us closer to a world free of MS. Most people with MS are diagnosed between the ages of 20 and 50, with three times more women than men being diagnosed with the disease. A study led by the National MS Society estimates that nearly 1 million people are living with MS in the United States; twice as many as previously thought.
The National MS Society funds cutting-edge research drives change through advocacy, facilitates professional education, collaborates with MS organizations around the world, and provides services designed to help people with MS and their families move their lives forward. Learn more at www.nationalMSsociety.org. Early and ongoing treatment with an FDA-approved therapy can make a difference for people with multiple sclerosis. Learn about your options by talking to your health care professional and contacting the National MS Society at nationalMSsociety.org or 800-344-4867.
LEARN MORE
To learn more about MS and the National MS Society, visit www.nationalMSsociety.org.
About Piedmont HealthCare
Piedmont HealthCare is one of the largest physician-owned multi-specialty groups in North Carolina and the fifth largest healthcare organization in the Charlotte Metro market. Committed to providing excellent care for the whole family, Piedmont HealthCare has more than 60 convenient locations and over 215 physicians and providers across multiple specialties to provide the most innovative medical care for our community. Visit www.piedmonthealthcare.com.