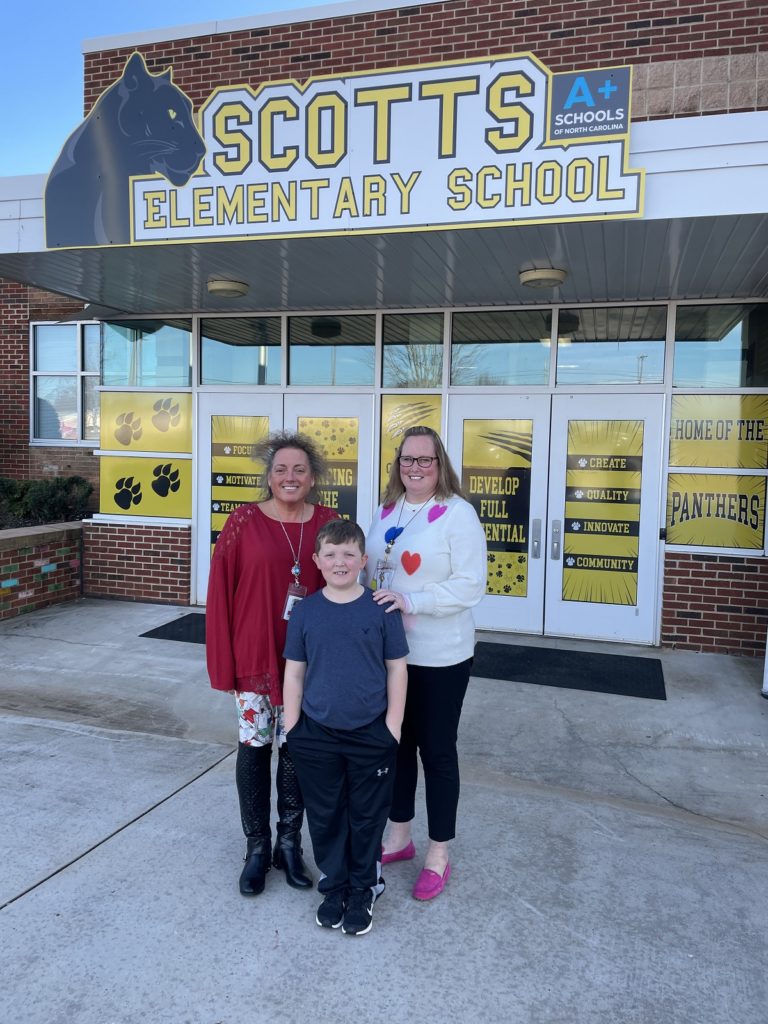 BY KARISSA MILLER
As mid-way point of the 2022-2023 school year approaches, the staff at Scotts Elementary, a N.C. A+ Arts integrated school, is committed to school safety and closing learning gaps.
"We have done a few things to implement pride and increase aesthetics inside and outside the school," Principal Susan Fail said.
Walking up to the school campus, parents and students now notice the vinyl graphics on the windows, which Fail explained serve two purposes. The first is privacy and safety. A person standing on the outside of the school cannot see directly into the school. Second, the Panther mascot and paw graphics help with branding and the eye-catching words inspire learning.
What's happening inside the school on a daily basis is just as purposeful, according to Fail.
Closing Learning Gaps
This school year, Scotts staff has implemented BRIDGES Mathematics core program for second- through fifth-graders to help close learning gaps. Eventually, kindergarten and first grade will be added.
BRIDGES is a research-based curriculum that provides problem-solving and skill-building strategies to help students gain a deeper understanding of math concepts.
"Our data indicated that last year we didn't meet growth mainly in math," Fail said. "We needed something concrete for our teachers to use and be consistent with. It's conceptual based learning, not so much memorization."
The school received a letter grade of D for student performance on End of Grade tests. Fail said her team is working diligently towards their goal of maintaining a letter grade of B or higher.
Fail has multiple spreadsheets with testing data, reports and other information to help keep everyone on track for End of Grade tests. She also has a running watch list of students who might be at risk, including high absenteeism, behavior or scoring below where they should be at this time.
Inside the classroom, teachers and teacher assistants are incorporating BRIDGES methods into their instruction, which has many moving parts, including a number corner and other skill-building components.
"We're seeing some good gains," Fail said, noting that students' pre-test scores are better than last year's scores.
"I cannot take credit for any of this. Lashon Lee, our instructional facilitator, and the teachers have been phenomenal. I'm giving them the data. They are taking that data and working with each one of our students," she added.
Fail, who is a hands-on principal, has also been in the classroom to observe remediation and help students who need additional support.
Every other week, Scotts "goal team" meets and discusses their School Improvement Plan, goals, and where they are headed. Everything in the School Improvement Plan is based on what's best for their students.
"I don't think there's a person in this building who doesn't give 110 percent every day," she said.