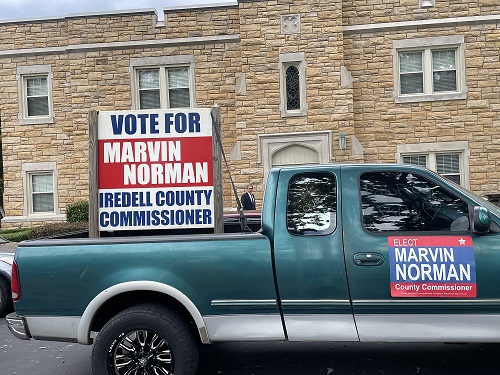 BY MIKE FUHRMAN
Iredell County Commissioner Marvin Norman was laid to rest Saturday afternoon.
But not before his family heard a series of tributes to the long-time public servant during a Celebration of Life Service at First Baptist Church on Davie Avenue in Statesville.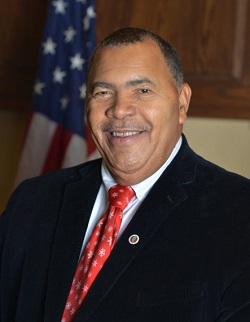 Norman, who passed away on September 14 after a period of declining health, served as a county commissioner for 20 years.
Statesville City Councilman Steve Johnson, who served alongside Norman on the Board of Commissioners, said his friend and colleague was always faithful, gentle, in control and consistent.
"But Marvin Norman was not perfect," Johnson conceded. "Marvin Norman was stubborn."
That stubbornness, he explained, was born of conviction to doing what is right. In a world where truth is not valued, where wrong is trumpeted and "right is denigrated and increasingly vilified, we could use more stubbornness," Johnson said.
"We could use more men like Marvin Norman."
Ronnie Wooten met Norman in 1995 while Norman was working for Crescent Electric and soon the two men were like brothers — so much so that Norman's children began calling him "Uncle Ronnie."
Norman lived his faith, Wooten said, and showed others the importance of loving God and your neighbors.
"He had a genuine concern for everyone around him," Wooten said. "He was always looking to help someone."
Former Gaston County Commissioner Pearl Burris Floyd met Norman about 20 years ago — not long after losing her brother. Norman, she said, "adopted" her and she became close to him and his wife Juanita over the next two decades.
Commissioner Norman, she said, was a model servant leader.
"He would do things that no one ever knew," Floyd said. "He was working all the time."
Rev. Timothy L. Bates told the large crowd of mourners and those who came to pay their respects that Norman had used his "many talents" to serve God, the community and his family.
Calling Norman an icon, a giant and a trailblazer, Bates encouraged everyone in attendance to follow the example of a man who bragged about being married for 49 years, who insisted his children and grandchildren attend church, and who valued hard work.
"He fought for what he believed in. He was a man of conviction," Bates said. "He believed in doing what was right — not in the sight of man — in the sight of God."
When Bates learned from Norman's widow, Juanita, that the late commissioner did not have a middle name, Bates gifted his friend an honorary middle name posthumously.
"Marvin 'Community' Norman was good and faithful," the minister said. "This man is a legend, and this community now has a void to fill. His church has a void to fill. His family has a void to fill."