FROM STAFF REPORTS
Congresswoman Virginia Foxx on Wednesday honored the service of Statesville Mayor Pro Tem William Morgan on the floor of the U.S. House of Representatives.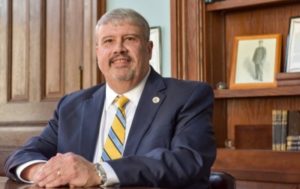 "For the last eight and a half years, he has served as a city council member and Mayor Pro Tem of Statesville," Foxx said. "In these two roles, he has excelled tremendously."
Morgan finished fourth in the May 17 election for two at-large seats on the Statesville Council. He decided against participating in a run-off election scheduled for July 28.
In a statement Wednesday, Morgan expressed his gratitude for Foxx's remarks.
"I am truly honored and humbled by Congresswoman Foxx's remarks and recognition of my service to the City of Statesville," he said. "It has been an honor to serve the citizens of Statesville as a council member and mayor pro tem. I am looking forward to watching Statesville continue to grow and prosper. We live in the best city in the state."
Video
\