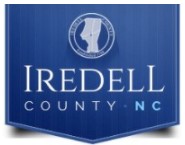 BY KARISSA MILLER
Concerned citizen Don West offered Iredell County commissioners some free advice during their meeting on Tuesday evening.
"The word around town and around the county is that our commissioners are bickering with each other," West said during the public comment period at Tuesday's Board of Commissioners meeting. "Ladies and gentlemen, we don't need that in the public. I don't need to know that."
"I expect you to bicker but do that in closed doors and do not bring it out into the public," he added. "We hired you guys to work together, and we expect you to do so."
West also expressed his appreciation for the work the board has done to help Iredell County grow and prosper.
Another speaker, Tom Snyder, also criticized the board for arguing with each other.
"Everyone is elected to a position. You have responsibilities that come with the position. If you can't fulfill them, step aside … step down," Snyder said.
Elected officials have an obligation to work together.
"You have to get along. You don't have to love each other, but you are elected to a position and to a job," he added.
Snyder said some of the things he's seeing in Iredell County remind him of why he left Long Island and moved to North Carolina.
"We elected you. We expect you to work for us," he said.
Another speaker, Micah Phelps, discussed the need for transparency and accountability in local government.
He also criticized Iredell Free News for reporting on how much his extensive records requests about mandated face masks have cost the county.
"They are writing scandalous and slanderous pieces about me that I'm costing the county money," Phelps said.
"Thousands and thousands and thousands of citizens," Phelps said, have asked him to find out why their rights are being taken away.
He blamed the county for the expense, explaining that he offered to "look through those emails for free" rather than have them printed out and reviewed by government officials before they were provided to him.
Phelps said he was able to read approximately 20,000 emails in a one night sitting.
He also took credit for the election of several new Iredell-Statesville Schools Board of Education members in the May election.
"At first, we thought it was the school board's fault. I take great pride in sacking that entire school board. It felt really good," he said. "It's never who we put in, but it's the bad guys who lie. That's who I like getting out."
None of the current I-SS board members was on the ballot.