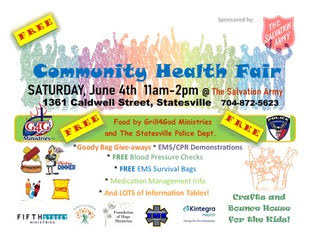 BY DEBBIE PAGE
debbiepage.iredellfreenews@gmail.com
The Salvation Army is sponsoring a free community health fair and family fun event on Saturday, June 4, from 11 a.m. to 2 p.m. in the backyard of its facility at 1361 Caldwell Street.
The event will feature a bouncy house, crafts and activities, health care checks, and giveaways for the whole family.
Attendees can enjoy a chicken plate lunch from G4G Ministries and hot dogs from the Statesville Police Department and browse information booths to learn about health-related services in the area and get freebies like medication lock boxes, goodie bags, and survival bags.
Information on nutrition, diabetes, blood pressure regulation, substance use disorder, and other health concerns will be available from area organizations represented at the event, including DACI, Foundation of Hope Ministries, Kintegra Health, Partners, Southern Family Medicine, Fifth Street Ministries, Addiction Recovery Medical Services (ARMS), and Goodwill.
There will also be Iredell County EMS CPR demonstrations, ambulance tours, and medication management information.
Representatives from Goodwill's Access Center will also be on hand to provide information on its adult high school completion program. For more information, Career Coach Kilby Watson can be reached at 704-873-5005, Ext. 11424, or at kwatson@goodwillnwnc.org.
Salvation Army social worker Adrienne Shea said the organization is seeing twice the number of clients in need of food assistance in this period of inflation and economic stressors.
Though the organization is stocked with canned fruits and vegetables, frozen meat is much needed to help feed hungry families.
Their supplies for the homeless are also very low. Shea said the organization desperately needs hearty, preferably pop top, canned goods with meat, including spaghetti with meatballs, beefaroni, beef stew, chicken and dumplings, Spam, potted meat, Vienna sausages, tuna, chicken, beanie weenies, thick ready-to-eat soups, chili beans, barbecue pork, and ravioli.
Other needs are bottled water, fruit cups, saltines, peanut butter or cheese cracker packs, paper towels, plastic eating utensils, and disposable plates and bowls.
Donations can be brought to the center during weekday operating hours (Monday-Thursday from 9 a.m. to 3:30 p.m.) or to the festival on Saturday.
LEARN MORE
For more information on the festival or donation needs, call 704-872-5623 during business hours.