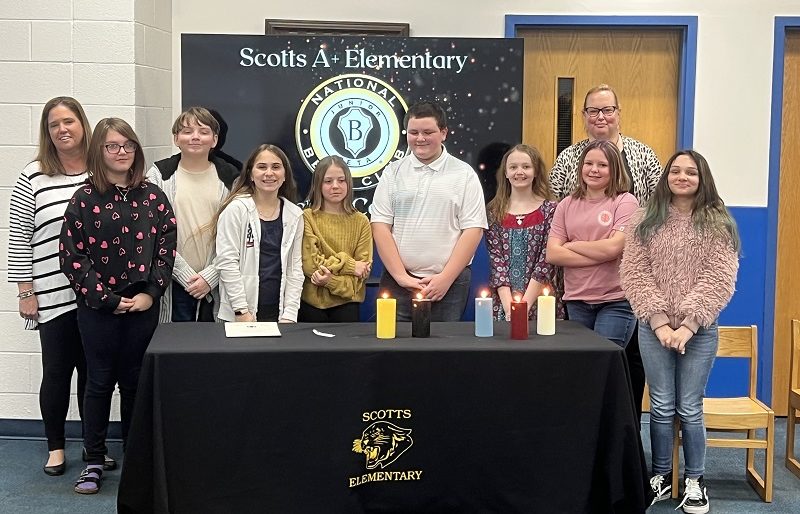 BY KARISSA MILLER
Scotts Elementary, an A+ Arts integrated school, recently hosted its first National Junior Beta Club induction ceremony.
Nine students were officially inducted into Scotts' National Beta Club on February 17. They are all fifth-grade students who have shown excellence in academics, character and students that are service minded.
The new inductees are:
• Trinity Stikeleather
• Samuel Morrow
• Alissa Auten
• Chloe Ayers
• Ethan Holstein
• Emily Mamatuck
• Lily Johnson
• Ashleigh Puda
• Presley Shook
Parents and family members were invited to the formal pinning ceremony.
"It's a great addition to Scotts. I'm glad that we're doing it," said Principal Susan Fail.
The students have led community service opportunities at their school and also serve as peer mentors.
"They have come up with a lot of unique ideas. I like their thought process, and I've been very impressed by them," Fail said.
"For fifth-graders, giving them the challenge and then the acknowledgement of being in a Junior Beta Club has made a difference. Some of them are thriving off the opportunity," she added.
Service projects have included a canned food drive in November and raising money for local veterans in the community. They recently sold candygrams with proceeds going to Purple Heart Homes.
Fail said that the inductees, whom she described as "motivated, intelligent and empathetic," have set a good example for younger students to follow.
She hopes that younger students will want to follow on their footsteps and aspire to be in Junior Beta when they are in fifth grade.
Fifth-grade teacher Kim Smith is the coach and coordinator of Junior Beta Club. Teacher Carol Holt, who is now retired, was instrumental in organizing the canned food drive and helped to get Junior Beta started.