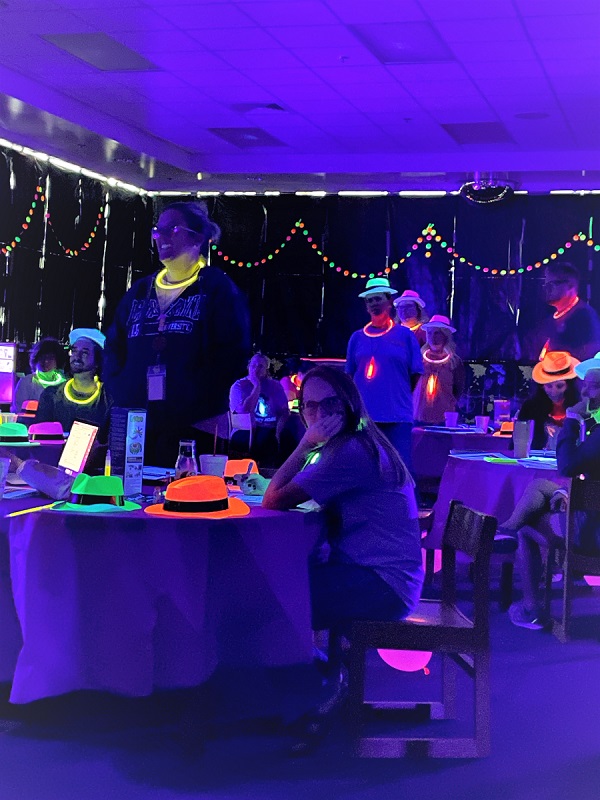 BY KARISSA MILLER
Teachers and staff at Scotts Elementary School, an A+ Arts Integrated School, sat in complete darkness inside the school library Tuesday afternoon, and that's when the magic began.
Principal Susan Fail used special UV black lights to transform the library into a big luminescent, glow-in-the-dark room for the annual back-to-school meeting.
"I put a twist on our usual opening meeting. I could not come back to a boring PowerPoint meeting," Fail said. "My goal is for them to take this energy and put it into their classroom."
Glow sticks and necklaces were activated for everyone to wear. Each table was decked out with
a variety of neon-colored hats.
"I didn't want everyone to be on their laptops. I wanted everyone to enjoy each other's company and have interaction," Fail said.
Once the day is over, she continued, "I plan to pack everything up for the teachers to use and have at it in their classroom," she added.
As the staff reviewed the handbook guidelines, they also had a chance to play "Glow Games" such as Jenga, cup toss, ring toss and bingo.
Brittany Whitaker, a fourth-grade teacher, said the day was a fun spin on their annual meeting. She's also looking forward to using the Glow Games in her classroom.
Whitaker, who is entering her 11th year teaching, said she looks forward to being able to strengthen relationships with families and parents of her students.
She also believes that even though the future of teaching may seem bleak that it's important to remember your why.
"The kids are the reason we do it. To see them learn and grow, there's no better joy," she said.
Free Breakfast
While the free breakfast and lunch program has ended for the district, Scotts will offer free breakfast to all students regardless of income, according to School Nutrition Manager Teresa Moose.
The school nutrition team was prepping for the school year on Tuesday. Moose said she's glad to be fully staffed and looks forward to seeing the kids again.
Fail said that they are anticipating a slight uptick in enrollment this year with an estimated 345 students.
She said one thing that has kept her up all night is that the school is in need of a K-5 Exceptional Children's teacher. The district is helping her try and recruit a teacher, but anyone that is
interested can apply through the district's website or contact her at susanfail@iss.k12.nc.us .
Photos