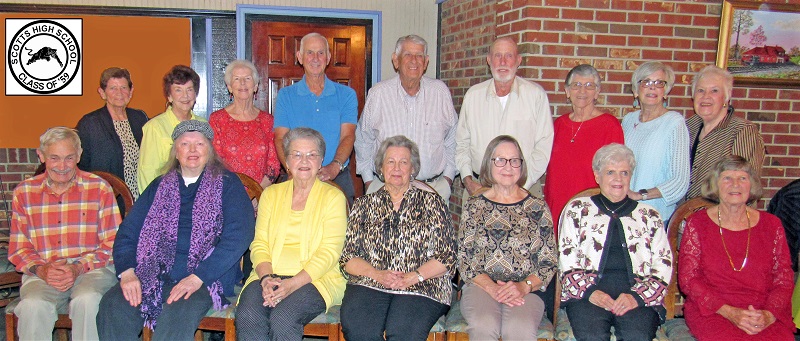 Special to Iredell Free News
The Class of 1959 of Scotts High School, Scotts, North Carolina; recently celebrated their 63rd class reunion at Boxcar Grille in Statesville. They meet for supper and the reunion.
Attending class members (seated from left) were Tommy Brown, Billie Moore Swain, Sue Deal Lowery, Brenda Baker Bolick, JoAnn Morrison Payne, Miriam Starrette Drake and Barbara Beckham Morrison; (standing from left) Brenda Dagenhart Pence, Linda Douglas Bollinger, Linda Stamper Boan, Tony Wilcox, Phillip Hoover, Bryant Waugh, Libby Sigman Conley, Faye Davis Ayers and Johnnie Moose Reavis.
Deceased members of the Class of 1959 who were remembered include Mildred Ashburn James, Robert L. Brawley, Kate McKinney Clendenin, Joanne Kates Craig, Johnnie Dellinger, Fred Gaither, Norma Jean Hall Harder, Jerry Hall, Gayle Moody Hyman, Boyce Lambert, Tommy Laws, James R. Miller, Linda Campbell Adams Mahaffey, Elvert L. Neal, Michael C. Reid, Darrell Teague, Jeanette Teague, Kathleen Cloer Stewart and Wayne Wooten.
The next reunion will be held in 2024.