FROM STAFF REPORTS
A Conover man faces two felony charges of taking indecent liberties with a minor following an investigation by the Iredell County Sheriff's Office.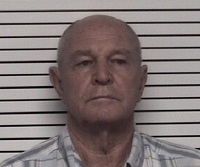 Sheriff Darren Campbell announced the arrest of Johann Stoltz, 78, of 3rd Street NE, Conover, in a news release Tuesday.
The ICSO began investigating on July 18 after receiving a report regarding possible sex offenses involving a minor. The investigation was assigned to Detective Elliott Lane with the Special Victims Unit.
Detective Lane observed the victim's interview, where Stoltz was identified as the suspect. Additional information and evidence was obtained during interviews with the victim's family.
As a result of the investigation, the detective obtained warrants for Stoltz's arrest. He was taken into custody by Warrant Squad Deputy Brad Stroud.
Stoltz was taken to the Iredell County Detention Center, where Magistrate Chambers issued a $150,000 secured bond.