FROM STAFF REPORTS
A Hickory man faces drug and weapons charges after being stopped for a traffic violation by an Iredell County Sheriff's Office deputy.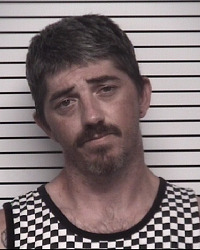 Sheriff Darren Campbell announced the arrest of Jesse Andrew Cartrette, 40, of 9th Street SW, Hickory, in a news release Monday afternoon.
ICSO Deputy Nathan Hodges was patrolling the area of Bethlehem Road on Thursday, July 14, when he saw a driver make an erratic turn into a business parking lot and then speed away at a high rate of speed, Campbell said.
The deputy overtook the vehicle and conducted a traffic stop for a traffic infraction, according to the news release. After making contact with Cartrette, Hodges observed drug paraphernalia and an open container of alcohol in plain view in the center console, the sheriff said.
After another deputy arrived on the scene to assist with the traffic stop, Cartrette's vehicle was searched.
Deputies found a handgun that had been reported stolen in Tennessee as well as crystal methamphetamine, marijuana and multiple items of drug paraphernalia, according to the news release.
Cartrette was arrested and transported to the Iredell County Detention Center. He was charged with Felony Possession of a Stolen Firearm, Felony Possession of Methamphetamine, Misdemeanor Possession of a Concealed Handgun, Misdemeanor Possession of Marijuana, Misdemeanor Possession of Drug Paraphernalia, and Misdemeanor Possession of an Open Container of Alcohol.
Magistrate Thompson issued a $10,000 secured bond on these charges.