Special to Iredell Free News
A Hamptonville man faces drug charges after a member of the Iredell County Sheriff's Office Aggressive Criminal Enforcement Team investigated a suspicious vehicle in a church parking lot.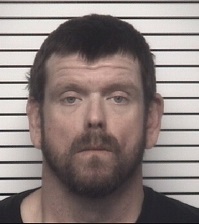 Sheriff Darren Campbell announced the arrest of Jimmy Wayne Martin, 36, of 256 Eagle Mill Road, Hamptonville, in a news release Wednesday.
Sgt. W.E. Line encountered Martin on Tuesday, December 20, after noticing a suspicious vehicle in the parking lot of Harmony United Methodist Church, Campbell said.
While speaking Martin and a female occupant of the vehicle, Sgt. Line utilized his canine partner Wilbur to conduct a free-air sniff around the exterior of the vehicle for the odor of narcotics, according to the news release.
After Wilbur gave a positive indication on the vehicle, the vehicle was searched and methamphetamine and Adderall pills were located in Martin's possession, the sheriff said.
Martin was arrested and charged with Felony Possession of Methamphetamine, Misdemeanor Possession of Schedule II Controlled Substance, and Possession of Drug Paraphernalia.
Martin was taken before a magistrate, who set his bond at $2,500.