FROM STAFF REPORTS
An eastern Iredell County resident faces multiple charges, including felony possession of a stolen vehicle and felony fleeing to elude arrest, after being apprehended by Iredell County Sheriff's Office deputies.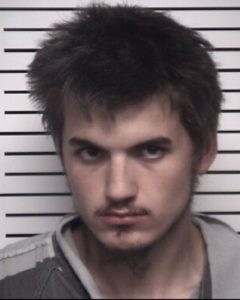 Sheriff Darren Campbell announced the arrest of Anthony James Sadler, 19, of Cambridge Place Statesville, in a news release Wednesday.
When Deputy J. Berrier attempted to conduct a traffic stop on a vehicle on West Front Street at North Oakland Avenue for a registration violation on October 25, the driver failed to stop, Campbell said.
The deputy began a pursuit but later terminated the effort before locating the abandoned vehicle crashed into a guardrail at the dead end of Waverly Place, according to the news release.
Deputies spoke to witnesses and obtained a description of the driver. A perimeter was established in the area and Deputy C. Moncus arrived and deployed Canine Bosco.
Canine Bosco started tracking and deputies were able to locate and apprehend Sadler, who was taken into custody.
Deputies subsequently learned the vehicle had been reported stolen in Rowan County. They also learned Sadler had a warrant for his arrest for felony possession of a stolen motor vehicle another vehicle, Campbell said.
Sadler was arrested and transported to the Iredell County Detention Center, where he was charged with Felony Flee/Elude Arrest with Motor Vehicle, Felony Possession of Stolen Motor Vehicle, Misdemeanor Reckless Driving, Misdemeanor Speeding, Misdemeanor Registration Plate not Displayed, Misdemeanor No Operators License, Infraction Drive Left of Center, Infraction Failure to Stop-Steady Red Light, Infraction Failure to Stop Sign, and Infraction Unsafe movement.
Sadler was also served with an outstanding warrant for Felony Possession of a Stolen Motor Vehicle.
Magistrate Nethken issued Sadler a $45,000 secured bond.