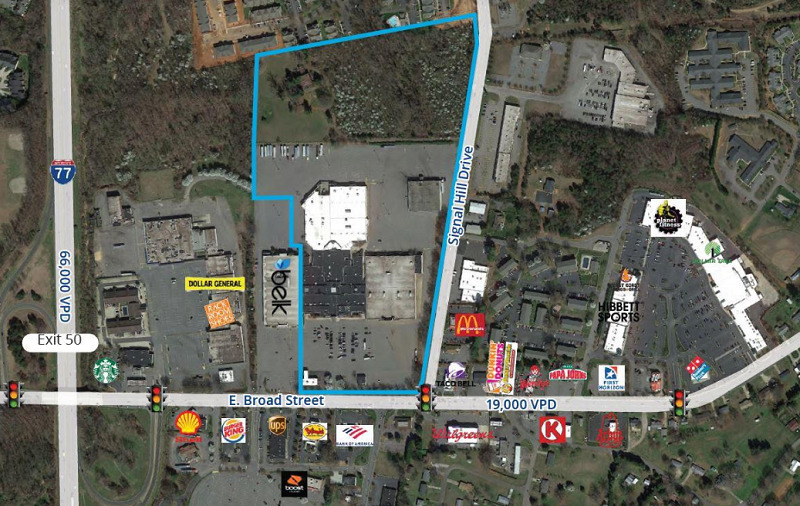 BY MIKE FUHRMAN
A couple of weeks after going on the market, the Signal Hill Mall property in Statesville is drawing serious interest from developers.
Colliers International, a multi-billion dollar diversified professional services and investment management company, is handling the marketing and potential sale of the property for C & J Associates, the general partnership that owns the mall.
"They have some solid, very good leads," said David Jones, a representative for C & J Associates. "It's going to be a multi-use development."
The property, located at 1685 E. Broad Street near the intersection of Interstate 77 and Interstate 40, includes three parcels, two of which contain existing buildings totaling about 303,000 square feet. The undeveloped parcel is 13.84 acres of land behind the mall property. The listing does not include the Belk store or parking in front or back of that store, which is owned by the retailer, or the adjacent Newtowne Plaza, which is owned by Interstate Development.
"This is a transformational redevelopment opportunity for Statesville, NC, and all future partners," Adam Farber, vice president for Colliers, said in a LinkedIn post.
Statesville residents have been waiting for years for the property to be redeveloped as anchor tenants Sears, JC Penney and Peebles closed their doors over the past decade or so. Major retailers have shied away from Statesville during that time, according to Jones, because of Statesville's lagging per capita income and slow residential growth.
During the past year, however, Statesville has seen a surge in investment from existing industry as well as manufacturers and distribution centers looking to relocate to the booming Charlotte region. In April, Northpoint Development announced plans for a $215 million project near I-77 and I-40, and TPA Group announced plans for a $75 million project at I-77 and Highway 21. Two months earlier, Sherwin-Williams announced plans to invest more than $300 million to expand its existing manufacturing facility and add an 800,000-square-foot distribution and transportation center.
There are also plans for more than 4,000 new residential units in the city in the zoning/permitting/annexation pipeline.
And, according to Jones, the ongoing improvements to the I-77 and I-40 interchange have also helped draw attention to the Signal Hill property.
Based on his experience in real estate and conversations with developers, Jones envisions the property being converted into a mixed-use development with multi-family housing units, small retail, and food and hospitality businesses.
"It would be a major redevelopment," he said. " But nothing that's imminent for sure."
The Collier and Jones families, which own the property, have been waiting for the right opportunity to sell. Once the sale closes, Jones anticipates that it will be three years before residents and visitors can enjoy the redeveloped property.
"We are just as anxious about redevelopment as anyone else," he said. "We have an optimistic outlook that the right thing is going to happen for the city and the property owners."