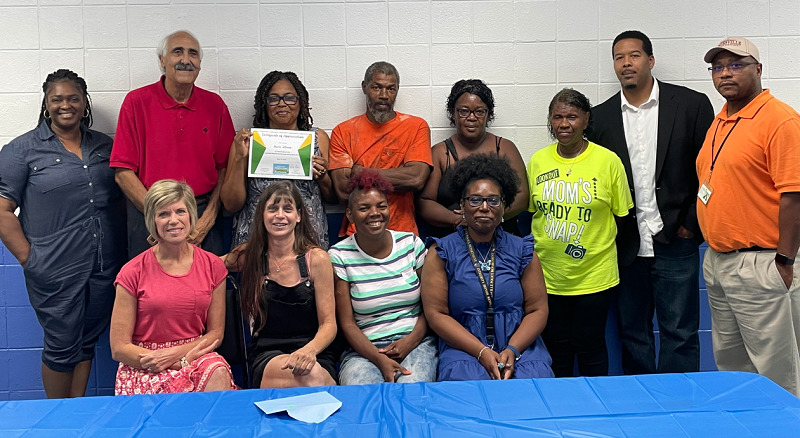 FROM STAFF REPORTS
As a part-time code enforcement officer for the City of Statesville, Leslie Marion is often tasked with telling folks that they have to remove junked vehicles and appliances from their yard.
Those interactions can get unpleasant pretty quickly when she details the fines that can be levied for noncompliance with city codes.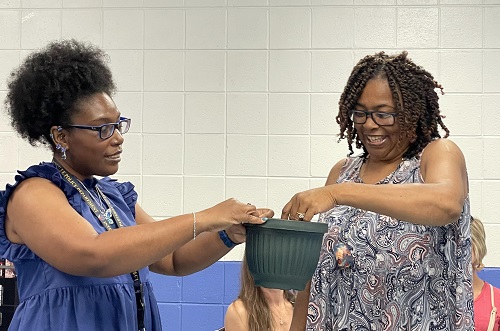 Marion's work was much more enjoyable last week as she recognized residents of the southside of Statesville who have made noticeable improvements to their property in the past month. Participants in a program championed by Marion received gift certificates and gift cards — and a grand prize winner chosen by drawing received a new grill/smoker.
Along Mayor Costi Kutteh, Marion recognized a half dozen participants during the ceremony at the Bentley Community Center.
"Without your efforts, we wouldn't get anywhere," the mayor said.
Seventeen people officially participated — including residents of three of the five properties with the worst code violations in the city — and many more residents participated unofficially. City Councilwoman Doris Allison participated but did not accept her prize, which she was happy to see someone else win.
Before the cleanup effort began, Marion knocked on doors and encouraged many residents to get involved. Her sales pitch was pretty simple: "You can do it the easy way or the hard way."
Local businesses agreed to haul away junked vehicles, and the City of Statesville Sanitation Division supported the effort by picking up other items and hauling them to the landfill. The city also covered the tipping fees at the landfill.
Sponsoring businesses donated prizes for the effort.
Turkessia Brown-Evans, community resource coordinator for the city, supported the effort and helped judge the contest. She called the initiative a success.
"The effort is continuing even though the contest is over," she said. "That's what we were hoping to inspire with this project."
The end result, Marion said, was gratifying to see. Residents have increased pride in their yards. And neighborhoods are now more attractive as a whole, which has sparked others to spruce up their property.
The participants were excited that businesses and the city were willing to be part of this effort.
"The City of Statesville is here for this community — just like any other neighborhood," Marion explained.
Shelton Moore, Family Support Services director for I-CARE, applauded the participants for controlling the narrative about their neighborhood.
"Let's hope it's contagious and more neighbors in the community start participating," he said.