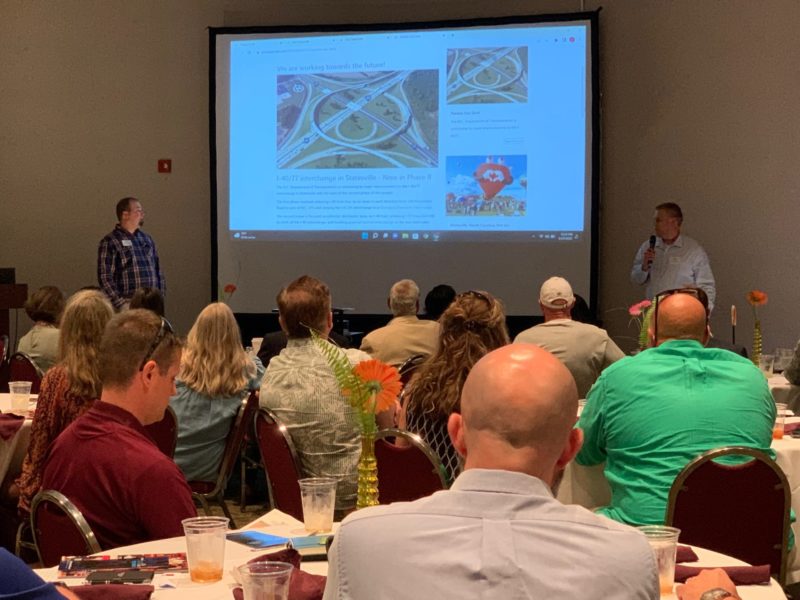 BY BRANDY TEMPLETON
The Statesville Convention & Visitors Bureau hosted its first Tourism Summit on Wednesday. Business owners and civic leaders gathered at the civic center to learn more about Statesville's tourism industry.
Representatives of Fort Dobbs State Historic Site, Lake Norman State Park, the Rescue Ranch, and Southern Distilling Company shared information about how these attractions bring visitors to the area.
Since being formed in 1999, the SCVB has encouraged travelers to visit Statesville through funding from the City of Statesville's occupancy taxes, which are paid by patrons of local hotels, bed and breakfasts, and Airbnbs.
Currently, Statesville has 22 lodging properties with 1,771 hotel rooms, with an annual 55 percent occupancy rate.
"Here recently there have been no rooms at the inn in Statesville on most weekends," SCVB Executive Director Cindy Sutton said.
She also shared that the occupancy tax generates $1.4 million a year. And that's just the beginning of what visitors contribute to the local economy.
"The story I am trying to tell you is that last night in Statesville visitors spent around $172,000," she said. "That's $63 million per year in revenue."
Sutton said that tourism tax revenues reduce the tax burden for local residents.
"Tourism is the fertilizer for economic development in Statesville," Sutton explained. "Let's work together to grow it!"
Charlotte-based Young Strategies recently completed a 90-day strategic plan for SCVB, which approved a research-based strategic plan for SCVB through 2025.
Highlights from the plan include three initiatives: branding, supporting the improvement/expansion of visitor experiences, and tourism framework for long- term success.
Meanwhile, SCVB has contracted with the Luquire Company from Charlotte to help market Statesville.
CEO Brooks Luquire gave a presentation detailing the firm's efforts.
He shared that North Carolina is the fifth-most popular destination nationally and that 80 percent of travelers come back to visit. Luquire will create media to help Statesville gain more attention.