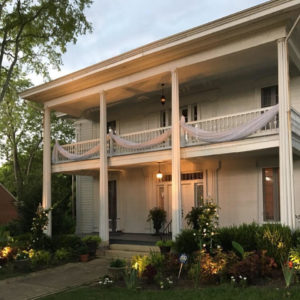 Special to Iredell Free News
The Historic Sharpe House in Statesville will host a BBQ and Bluegrass fundraiser featuring The Wood Family Tradition on Saturday, July 30.
Bluegrass and barbecue lovers will gather at 402 S. Center Street in the Dogwood Courtyard at the Historic Sharpe House at 7 p.m. for a meal live music.
Located at 402 S. Center Street, the Historic Sharpe House is a local landmark and event venue. Guests will enjoy a buffet of BBQ, potato salad, white and red slaws, corn on the cob, baked beans, cornbread muffins and rolls. Satisfy your sweet tooth with a variety of desserts, including banana pudding with whipped cream, blackberry cobbler with ice cream, blackberry wine cake, and a beloved Sharpe House favorite, double vanilla pound cake with whipped cream and strawberries.
The Wood Family Tradition will be performing a show you do not want to miss. This true family band, which over 150 years of combine experience, was awarded second place at the 47th annual SPBGMA Bluegrass Music Awards in January of 2022. The five members are sure to put on a show that will tickle your bluegrass fancy and keep your feet tapping into the evening.
Tickets
Tickets must be preordered on EventBrite.
Tickets cost from $18 to $55 depending on selection. Beer & Wine will be available to those 21+ and must be purchased with pre ordered tickets. Children ages 5 and up are welcome.
LEARN MORE
For more information, contact Keith Rhyne at sharpehouseevents@gmail.com or call (704) 682-7508