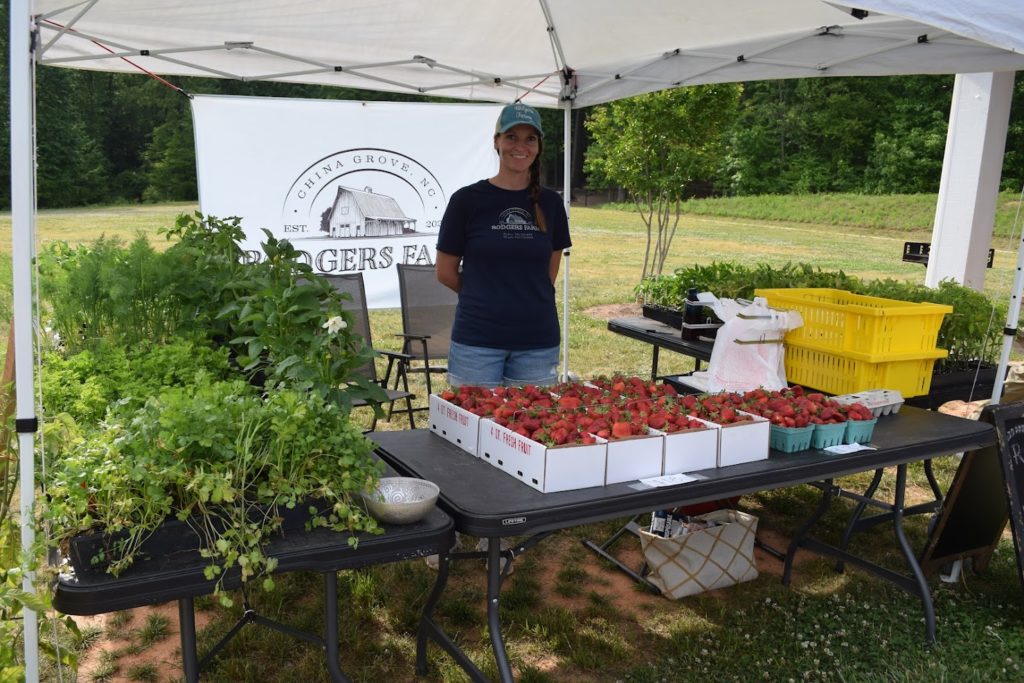 BY DEBBIE PAGE
debbiepage.iredellfreenews@gmail.com
The Town of Troutman's Farmers Market opened at ESC Park earlier this week, providing residents and visitors an opportunity to support local farmers, artists, and craftsman. The market will operate each Tuesday from 4 to 7 p.m. through September 27.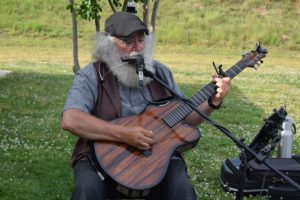 Parks and Recreation Director Chip Smith said 15 vendors have signed up so far. They offer an array of vegetables, strawberries, honey, plants, baked goods, eggs, home-canned goods, clothing, and handmade crafts. Customers can also enjoy live music several times a month from local musicians.
All products must be homegrown or handmade; no reselling is allowed.
If severe weather occurs, the market manager will decide whether to operate by 2 p.m. on the day of Farmers' Market and announce cancellation on via email and on the Town of Troutman's Farmers' Market Facebook page.
Farmers and vendors must comply with all applicable laws and regulations and obtain any and all necessary license and permits and keep documentation of their compliance with them at the Market.
Spaces are $40 for the season, and applications are available at https://tinyurl.com/2p9hcxdc.
PRODUCTS ALLOWED FOR SALE
• Any vegetable grown by the seller from seeds, sets, seedlings or transplants grown on vendor's farm.
• Any fruits, nuts or berries grown by the seller from trees, bushes or vines on the seller's farm.
• Any plant grown by the seller from seed, seedling, transplant or cutting.
• Bulbs propagated by the seller.
• Eggs produced by the seller's poultry. Eggs have to be in a cooler; cartons need to be labeled with seller's name and address, date eggs collected & a "best by" date 4 weeks later. Can reuse cartons but mark through print on carton such as "grade A, USDA inspected" etc.
• Honey produced by the seller's bees. All jars of honey must be labeled with beekeeper's name, address, phone number & variety of honey.
• Fresh (not frozen) baked goods made by the seller. All baked goods must be wrapped and labeled with name, address and phone number of baker and all ingredients must be listed on the label.
• Preserves, jams or jellies made by the seller.
• Fresh cut or dried flowers grown by the seller.
• Crafts produced by the seller.
• Only dairy products made at a licensed dairy and from livestock raised on vendor's farm. Please provide license.
Only meat raised on vendor's farm. Proper state licenses required. Fresh meats must be stored at proper temperature.
PRODUCTS NOT ALLOWED FOR SALE
• NO canned foods of low acid content or tomato products that have not been approved by the North Carolina Health Department may be sold.
• NO yard sale or used items.
• NO dairy products from unlicensed dairies. Please bring license.
• NO fish or meat can be sold unless approved by the state.
• NO live animals.
• NO resold items.
Smith said the town is also planning to revive the end of season craft bazaar this fall.
LEARN MORE
For more information, contact Smith at csmith@troutmannc.gov or at 704-528-7600.
Photos