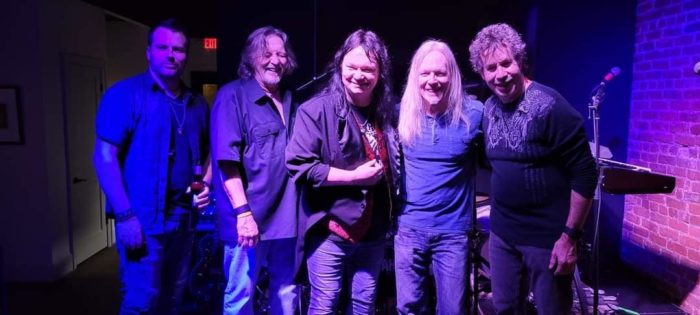 Special to Iredell Free News
Prepare to let Trial by Fire to take you back to an earlier day when lighters were held high and you couldn't help but sing along to such powerful choruses as "Don't Stop Believin," "Wheel in the Sky," "Separate Ways" and "Faithfully."
Trial By Fire will take the stage in Downtown Statesville on Friday, July 1, for the Piedmont HealthCare Friday After 5 Summer Concert Series.
In 1996, arena rock superstars Journey put the band back together to record their tenth studio album, Trial by Fire. Shortly after the release of this reunion album, lead singer Steve Perry injured himself while training for what was to be a high energy road show. With Steve Perry unable to perform, the Trial by Fire tour became "the tour that never happened."
Flash forward to the present. Trial by Fire was born out of the hearts of five seasoned North Carolina- based musicians who decided to answer that question. It is their vision to bring that 1996 tour to Journey fans across the country and embrace the sound and visuals of the Steve Perry era of Journey.
Randy Marion is the Entertainment Sponsor for this concert.
The Piedmont HealthCare Friday After 5 Summer Concert Series offers free entertainment to Statesville's residents, neighbors, and visitors in Downtown Statesville from May through September and features music of all styles.
The concerts are held in Downtown Statesville on West Broad Street in front of Mitchell Community College from 6 to 8:30 p.m. Beer, wine, spirits, soft drinks, water, and food will be available for purchase beginning at 5 p.m. Bring your chairs and enjoy a great night of music, but remember pets, outside beverages and coolers are not allowed.
Start your evening by visiting the welcome tent sponsored by Randy Marion to purchase your tokens before heading over to the beverage tent. Then head over to the beverage tent sponsored by Connect Iredell for a selection of wine and beer. Southern Distilling Co. will also be offering the signature "Southern Sour." Red Buffalo Brewing will be on hand pouring the Clocktower IPA and Blue'sberry Ale.
Andrea's Ice Cream & Sweet Shop along with Wilson's Weenie Wagon and Durty Thumbs Jamaican food trucks will be serving food, sweets, water and soft drinks.
Upcoming Concerts
♦ July 1 – Trial By Fire (A Tribute to Journey)
♦ August 5 – Phatt City (Beach, R&B, & Dance)
♦ August 26 – The Catalinas (Beach)
♦ September 2 – Red Dirt Revival (Country)
Sponsors
The Piedmont HealthCare Friday After 5 Summer Concert Series is produced by Downtown Statesville Development Corporation (DSDC) and the Greater Statesville Chamber of Commerce.
Sponsors include Piedmont HealthCare, Randy Marion Ford Lincoln, Southern Distilling Co., Accellacare, Connect Iredell, Denso, Lake Norman Pool and Spa, Allen Tate Realtors, AP Vintage Motors, Carolina Specialty Care, Carolina BalloonFest, Centralina Realty, Hilton Garden Inn, Home Paramount Pest Control, ISCEC, Maymead, Mitchell Community College, Banner Drug, All American Stage and Sound, City of Statesville, Homerun Markets, WAME Radio 92.9.
Parking
Parking is available throughout Downtown in nine public parking lots. Mitchell Community College invites guests to park in the college's various lots surrounding the event. For public lot details, visit https://www.downtownstatesville.com/directions-parking
Learn More
For more information about the 2022 concert series, contact Downtown Statesville at 704-878-3436 or the Chamber of Commerce at 704-873-2892. Learn more by visiting https://www.svlfridayafterfive.com/