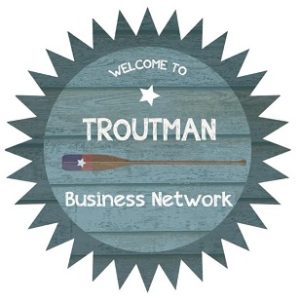 BY DEBBIE PAGE
debbiepage.iredellfreenews@gmail.com
An informal weekly coffee meet and greet gathering in 2018 started by Jeff Smith, the Troutman Business Network has evolved into a formal organization.
The group has elected a slate of officers and board of directors and is nearing completion of its nonprofit status.
"We do want to make Troutman a destination," President Lisa Crates said. "The reason for the business network is to share our resources with the rest of the area. We have some really valuable businesses and great, great people, and we need to bring that to light."
Treasurer Fiona Oxsher said it's important to make the community and surrounding area aware of what's available in Troutman.
"It's a problem for each individual business because we are all small business owners," she said. "There's some very unique businesses in town."
With so much to do, Oxsher said time to market products and services is limited.
"We figure if we all group up together, we can make Troutman a brand. It makes all of us better and more powerful that way."
Through their weekly Thursday morning coffee gatherings at Your Coffee Place and third Thursday evening monthly socials at local businesses such as Cedar Stump Pub or Daveste Vineyard, the group wants to be approachable, especially to new folks, and emphasize personalized, face-to-face relationships, added Secretary Megan Cline.
The original idea for the group was to get to know other business owners, then through knowing come to like each other, and then move to build trust and relationships and empower each other.
"The best marketing is a referral by a friend," said Oxsher.
The Thursday morning gatherings averaged 35 to 40 local business owners before COVID-19, and the group continued to meet in the parking lot of The Coffee Lodge even during COVID restrictions.
KEEPING THE DOLLARS IN TROUTMAN
The many new families will infuse combined disposable incomes of millions of dollars into the area and TBN's goal is to help them recognize local businesses as their first source of products and services to keep the dollars flowing into Troutman businesses' cash registers.
"The challenge of keeping the dollars in our market is how to let these new neighbors realize that the services and products they need are right here in Troutman. They are reliable, fairly priced, and personally accessible, and our business people care about and support the community, schools, activities, and village services," said board member Howard Landkrohn.
With the 2000 new homes already approved for the community, a percentage of those arriving residents will be entrepreneurs bringing their small businesses to the community, Landkrohn noted.
"They are going to want to find a location for their business and an environment and a friendship with other business owners to help them, which up until now has not been here," he added.
The board wants want to avoid the Chamber of Commerce label and those expectations.
"We want a more welcoming, fluid environment. We don't want to be boxed in. We want to approach things in a creative way, though we will fill some of the roles that a Chamber of Commerce might," said Oxsher.
"We want work with the town to recruit a wider portfolio of businesses to Troutman to get the things that people need," she added.
"We want the town to help us, but the businesses are also there for the town and for when they need help with events," said Crates.
Oxsher expects TBN's 501(c)3 status to be granted within a matter of weeks. After this last organizational step is complete, the group will start actively recruiting businesses to join forces with TBN to create this centralized organization.
Having a 501(c)3 nonprofit status will give the organization the credentials allow TBN to apply for grants to fund some of their ambitions.
In addition to Crates, Oxsher, Cline and LandKrohn, other TBN board members are Vice President Eric Dees, Jeff Epstein, and Emma Pattison.
After the group is completely structured and nonprofit status is official, TBN plans a kickoff event, a marketing blitz, and a quick launch of projects and grant applications in its quest to fulfill its mission: "providing superior quality products and services to Troutman and surrounding communities."
One ambition is helping startups find locations to set up their businesses. The group is already looking at possible business incubator locations, which would be a magnet for both new businesses and provider of new employment opportunities. However, rising real estate costs are presenting a real challenge.
ROBUST ONLINE PRESENCE
TBN wants to offer a robust centralized online presence to help community members find or offer services within and outside the group. Additionally, it will offer educational resources and seeks to partner with town staff and officials to recruit businesses to serve explosive growth occurring.
They want to be a one-stop source for anyone in the community needing help or an answer to their questions. New persons to the area can visit the TBN website or Facebook page as an online welcome center to learn where to shop and get information about area restaurants, civic groups, or events going on in the area.
The TBN website will also eventually have an online calendar that will gather up TBN, town, and community events in one place to help both newcomers and long-time residents stay informed about community happenings.
MEMBERSHIP
The group is still trying to meet the challenge of delineating the lines of membership since they want it to be a group of truly local businesses who are either located in Troutman or frequently serve the town and surrounding area.
The group currently has two tiers of membership: the free networking coffees and socials and a paid tier of $100 per year to help cover operational costs of website, promotion, printing, and community events. In the first four weeks of offering memberships, 16 have already joined.
Larger corporate businesses in the community will also be recruited to join the group.
SERVICE TO COMMUNITY
Landkrohn sees the value in TBN as a united force to advocate for needed public services or amenities. "If the organization is presenting to the council, the idea will have more clout and a stronger voice."
TBN also wants to sponsor events in Troutman — community celebrations, 5K races and other family-oriented activities — and reinvest any funds raised into Troutman. "We want to serve and support the community," said Crates.
The group also hopes to partner with the town to help with improvements, like the expensive lighting project at ESC Park.
FOR MORE INFORMATION
To learn more about Troutman Business Network, visit the website at www.shoptroutman.com. Local business owners can ask to join the Facebook group at https://www.facebook.com/groups/1932383390184289.