BY DEBBIE PAGE
The Troutman Town Council unanimously approved a community pet pantry project to assist community members struggling to afford pet foods in these difficult economic times. The pet pantry be placed next to the Blessing Box at Town Hall,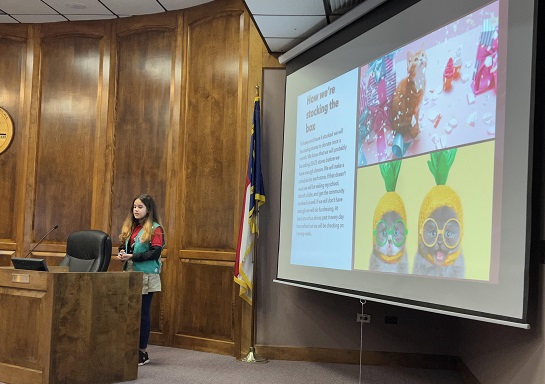 Juliette Girl Scouts Layla Sudol and Sophie Maher are creating the pet pantry as part of their Bronze Award project. The box will be painted in Troutman colors of green and brown and will be similar in size to the Blessing Box but deeper to accommodate pet food bags and cans.
The girls will distinguish the box by adding paw prints or animal images on the pet pantry.
Sudol and Maher are planning to ask stores, schools, clubs, and community members to contribute food to the pet pantry, much like the Blessing Box, which members of Rocky Mount Church operate. If necessary, they will also hold fundraisers to purchase food if necessary.
The theory is that people in need can take food and those who can will donate food to help keep community pets well fed and healthy.
Sudol and Maher will be asking a building supply store to provide the pantry materials and paint for the project. Their parents will assist in the dangerous parts of construction.
The box will also have a QR code that will connect to a Pet Pantry Facebook page on which community members can relay information or get donation information.
Town Manager Ron Wyatt recommended the project to the council, assuring them that town staff will work with the scouts and their parents to build a pantry that meets town parameters.
Council member and pet owner Eddie Nau was pleased with the opportunity to donate to pets and their owners locally. "We need to give back because pets give so much to us," he said.
Council member Paul Henkel noted that some are having to return pets to area shelters because they cannot afford to care for them. "This project could help people keep their pets and is a very positive thing for the community," he said.
AUDIT REPORT EXPECTED DECEMBER 1
The town's 2022-2023 audit report is expected to arrive by December 1 from the highly experienced Thompson, Price, Scott, Adams and Company auditing firm from Whiteville.
Wyatt and Town Finance Director Justin Mundy recommended this firm to the council in May — although it was not the least expensive — because the other firms submitting bids had some detrimental issues in their view.
Wyatt said all town information has been provided to the auditors and the slight delay is part of the "adjustment period that comes with change" resulting from the auditors learning the town's finances and procedures this first year. The firm has also suggested updating some town finance methods and procedures.
Mundy said Thompson, Price, Scott, Adams and Company "is doing a great job." He noted that fewer firms are doing challenging municipal audits, which results in delays because of high demand.
Wyatt also said that best practice is to change firms every three years to get fresh eyes on finances and procedures to stay at the top of their game, but Mundy noted the difficulty in finding new municipal auditing firms because of their small numbers.
The state's deadline for audits is December 1, but there are no penalties for late submission.
Mayor Teross Young said that the League of Municipalities is lobbying state officials about auditing challenges when towns transition to new firms, which often results in delays.
They also hope to come up with a list of approved municipal auditing firms to hire or to step in if an auditing firm fails to do its job as contracted, as happened with the 2021-2022 town audit, which was not completed by its previous firm until April of this year.
UPCOMING THURSDAY NIGHT
Developers are requesting that the council delay consideration of their annexation request for the 276-acre Shinn Farms development on Weathers Creek and Houston Roads until its December 8 meeting. The Planning and Zoning Board narrowly recommended the project in a 4-2 vote.
On Thursday night, the council will consider:
♦ An annexation and conditional mixed-use residential rezoning request for 28.3 acres on Perth Road for the River Rock Perth development, an attached ranch style home community of 35 structures featuring 99 units and targeted to those age 55 or older. The Planning and Zoning Board voted unanimously to recommend denial of the project.
♦ Rezoning request to heavy industrial conditional zoning for the 38 acre North Fork Business Park at 164 Nugget Lane. The Planning and Zoning Board unanimously voted to deny the request.
♦ An economic incentive request by Iredell Economic Development Corporation (IEDC) for the Collett Industrial project on Houston Road.
♦ A presentation on the proposed new draft of the Town of Troutman Future Land Use Map (FLUM) and Definitions. To increase transparency, the council is expected to give the public a 30-day public examination period before holding the hearing and voting on the map at a future meeting. The map is available on the town website.
The Planning and Zoning Board unanimously voted to recommend the proposed FLUM and definitions to the council with a few changes, including the changing from high density to medium density of a section north of Houston Road and extending to the proposed high school site, the correction of "greater than 3 homes" rather than four homes in the mixed use/high density definition, and verification of the Technology Drive area as being correctly designated on the map.
♦ Consider recommendation to Iredell County Commissioners for the appointment of one ETJ Board of Adjustment alternate member.
♦ Setting December 8 annexation hearing date for 8.3 acres at 122 Frazier Loop by Calvary Fellowship of Huntersville.
♦ Approval of Façade/Building Elevations for the Kirkman Medical Building and Westmoreland Village Amenity Center building.
♦ Approval of Accounting and Faithful Performance Bond Increase required by Senate Bill 265 to increase Finance Officer Faithful Performance Bond $1M from $50,000 and establish Blanket Faithful Performance Bond for employees handling $100 or more for $10,000 to protect town funds.