BY DEBBIE PAGE
debbiepage.iredellfreenews@gmail.com
The Troutman Town Council honored two former council members lost to the community in December during its meeting on Thursday night.
Jennie Lee Moore Clontz served a total of 18 years on the council, in addition to operating Quality Aluminum Works with her late husband Frank for 35 years. The Troutman High School alumni and lifelong Iredell County resident was also an active church member, serving on numerous committees, helping with fundraisers, and singing in the choir.
Council member Paul Henkel served with Clontz, saying that she was a "good, decent lady who ran to serve with honor." Clontz "kept me on my toes" with her spirited leadership," he said. "I was honored to serve with her."
James "Jimmy" Troutman was the first town employee, serving in many roles for more than 28 years as well as a town committee member and a council member after his retirement in 2007.
The lifelong Troutman resident and Troutman High grad was a firefighter with the Troutman Fire Department for 30 years and was an active church member who served on various committees and sang in the choir.
Troutman and wife Betty Jean were also named Troutman Citizens of the Year in 2021.
"No one worked harder for or loved Troutman more," Henkel said. "The town is much better for having Jimmy live and serve in this town."
HEMRIC RECOGNITION
Troutman resident Daniel Hemric was recognized for earning the 2021 Xfinity Series championship.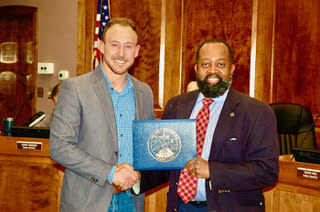 Hemric began go-cart racing at age 5 and moved up to short track racing at age 10. He joined the truck series in 2013, moving to the Xfinity ranks in 2017 with Richard Childress Racing. He moved to the NASCAR Cup series full time in 2019, earning "Rookie of the Year" honors.
Hemric took the Xfinity title racing the No. 18 Toyota for Joe Gibbs Racing at the Phoenix Raceway.
Mayor Teross Young and the council presented Hemric with a commemoration recognizing his past and present accomplishments and wished him continued success in his racing career.
Hemric thanked the mayor and the community for welcoming wife Kenzie, daughter Rhen, and himself "with open arms."
BUSINESS SPOTLIGHT
Meredith Marie Photography owner Meredith Bliven Heiser was honored for her "creativity, entrepreneurship, and community involvement."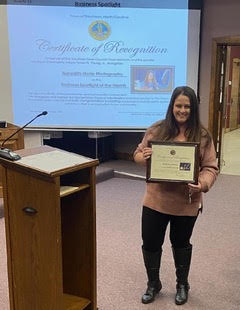 The town also expressed appreciation for her volunteerism and civic service to the town as she created "a successful and dynamic adventure that is an inspiration to our community."
Heiser said she "took great pleasure" in capturing photos for the new town website.
Town Manager Ron Wyatt noted that the busy mother of two volunteered to take the pictures, worth thousands of dollars, at no cost. Heiser also volunteers with Troutman Youth Athletic Association.
J. HOYT HAYES MEMORIAL TROUTMAN LIBRARY
Branch Manager Kelli Goodwin announced that the library resumed limited in-person programming in January. The preschool and toddler story times, teen programming, and the popular adult Pinterest activities are currently operating.
All programs have limited participation and require online registration at https://iredell.lib.nc.us/194/Troutman-Branch-Library to allow for social distancing. The library is offering multiple sessions of some programs to help with community access.
The library's book club for adults combined with the Statesville library club and is meeting at various area restaurants for dinner and book discussions. Those interested in joining should contact Tamra Hicks at 704-528-2682.
Upcoming events include Toddler Storytime (Black Authors) on February 15, Teen Program (Black History Jeopardy) on February 17, Preschool Storytime (Black Authors) on February 18,
Toddler Storytime (Dental Health) on February 22, Preschool Storytime (Dental Health) on February 25, and Adult Pinterest (Pallet Wood Art) on February 26.
The library also offers pickup kits in its passive programming, which can be completed in the library or at home. The popular monthly "Take and Makes" will also continue. They also have Black History Month arts and crafts kits for pick up.
Goodwin reported that 141 patrons participated in the 11 programs offered in January.
The staff is also busy preparing the in-person Summer Reading Program and is teaming with Troutman Parks and Recreation to co-host a performance at ESC Park this summer.
COUNCIL ACTION
In other business, the council:
♦ Approved a text amendment removing criminal penalties for UDO violations in Article 12.3 Penalties For Violation & Enforcement Mechanisms.
♦ Approved a UDO text amendment regulating commercial accessory structures.
♦ Approved timed reduction of Miracles Homes locations from three to one to meet UDO requirements.
♦ Approved sale of the police department's unused and surplus tasers.
♦ Approved the town's vehicle take home policy for authorized employees who live within 25 miles of the town for transportation to and from work or to town-related events or meetings. No unauthorized passengers are allowed, and personal use is prohibited.
♦ Approved a social media policy that allows deletion of content or comments not related to the town jurisdiction, profane or obscene language, discriminatory content, solicitation of commerce or gratuitous links, political content or organizations, illegal activity, copyright violations, or confidential or non-public information.