BY DEBBIE PAGE
debbiepage.iredellfreeneews@gmail.com
The Troutman Town Council turned green for pickles on Thursday night as it recognized Tasty Pickles by Carson in its Business Spotlight. The council and staff paused for a moment to don Carson's lime green business T-shirts and sweatshirts before the presentation.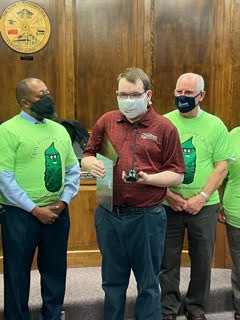 Mayor Teross Young presented Carson Lester with a certificate in recognition of his creativity, entrepreneurship, and community involvement. The certificate also commended "his persistence to rise above challenges and create a successful and dynamic business adventure that is an inspiration to our community."
Carson's autism challenges have not slowed the young man's success. His business grew out of a junior year project in late 2018 and expanded over the past three years after his graduation from South Iredell High School.
He sells Kosher Dill, Sweet Heat Dill, Spicy Dill, and Bread and Butter pickles in both pints and quarts. With the help of his parents, Pete and Debra, Carson is currently raising money to outfit a larger building to produce his pickles and meet growing demand.
In addition to local sales at area Food Lions, Southern Charmers, and D E Turner & Company Hardware, Carson ships pickles all over the country as well as two foreign countries. He also periodically sets up sales tables at area farmer's markets, Daveste Vineyards, and community events.
Carson thanked the Town Council and staff for the recognition.
"I really love this town, and I love my business," he said. "I appreciate the recognition that I have received."
LEARN MORE
To purchase pickles or T-shirts, visit Carson's website at https://tastypicklesbycarson.com or visit his Facebook page at https://www.facebook.com/carsonspickles. He can also be reached by email at tastypicklesbycarson@gmail.com.