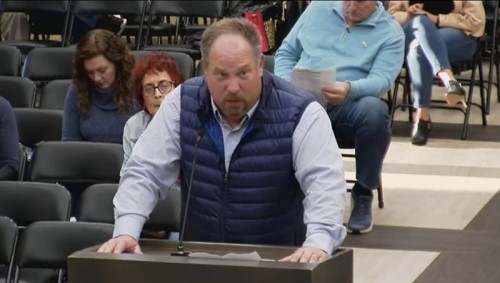 BY KARISSA MILLER
Troutman Middle School Principal Bryan Paslay said earlier this week that he has been thrown into the middle of another hot-button issue.
He wants to set the record straight.
Paula Mimnaugh, a former teacher in Montgomery County, claimed during the February public comment period of Iredell-Statesville Schools Board of Education meeting that Paslay had two pornographic books in the school media center.
The two books she referenced were "Almost Perfect" by Brian Katcher and "Another Day" by David Levithan.
Mimnaugh also stated she was denied entry into the school library to take a picture of the books.
Paslay said he wanted to address those accusations:
First, he said that the books aren't in the school's library.
Secondly, he admits that he denied Mimnaugh's request to enter the school.
"We will deny entry to random people calling to say, 'I want to come and take pictures of books in your library,' " he said.
Mimnaugh admitted earlier this week that she made a mistake and that those books are not in the school's library.
She said that she made the mistake after she used an online website to search the school's card catalogue. Those titles came up, she said, but when I scrolled down it said that they were not in the library.
Her ill-informed accusations created a lot of drama for Paslay and his school.
The principal said he's tasked with protecting the safety and security of the people inside his school building.
"They say they are doing it for the rights all of the parents, but the parents of Troutman Middle School would be here causing a bigger ruckus and scene if I just let anyone inside the building," he said.
Paslay said that he had a separate incident occur in which a parent continuously called the school about a book because the parent saw a video on social media claiming that a pornographic book was in his school.
The parent would not believe that the book was not inside the school's media center. Eventually, the school resource officer had to get involved and tell the parent to stop calling because it was bordering on harassment.
Paslay said that he's lived in the county for 40 years, worked with Iredell-Statesville Schools for 23 years and is pretty well versed in the values of the community.
"Since when did we lose all faith and all trust in the schools and school leaders?" he asked. "My truthfulness and integrity have been in question more this year than in all those years combined."
"Everybody is wanting to make everything a political game. I'm not playing that political game. I have a job to do and that is the responsibility …to do what's right and best for Troutman Middle School," he added.
Most of the pornographic material he has to deal with, Paslay said, is found on a student cell phones and gets shared on social media.