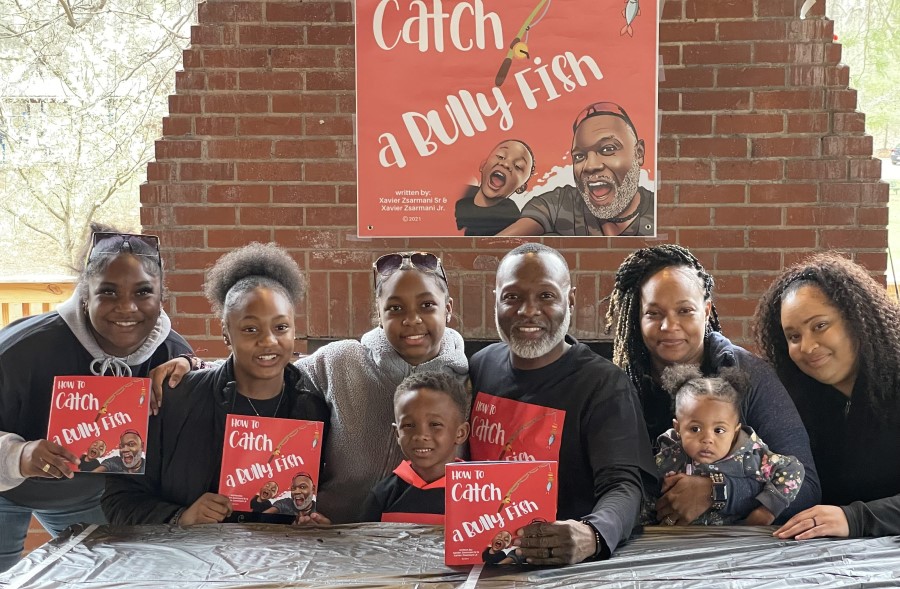 BY MIKE FUHRMAN
XJ Zsarmani admits he felt a little nervous when he arrived at Martin Luther King Jr. Park in Statesville on Saturday afternoon.
It was his first public book signing, and the Celeste Henkel Elementary kindergartener didn't quite know what to expect. (Afterward, he said it was "great!")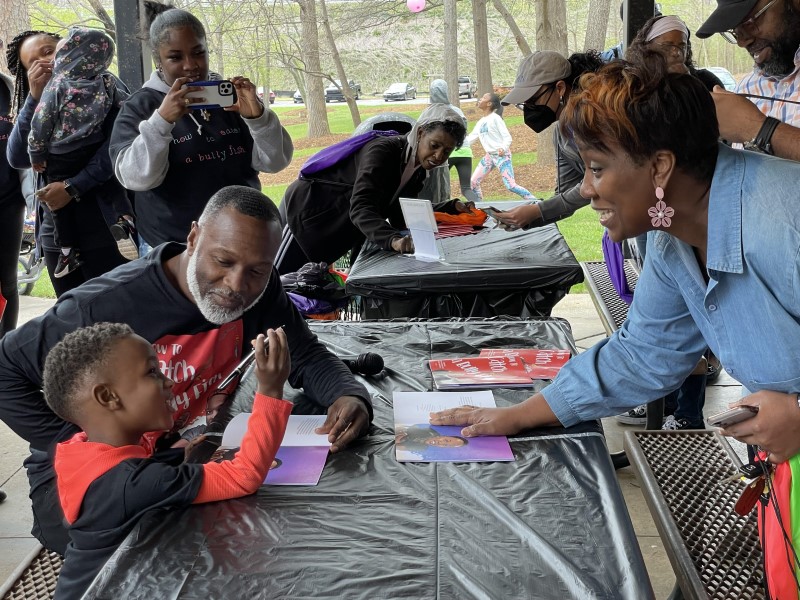 That moment before the event — and many others that followed — will remain seared in his dad's memory for years to come.
"I said, 'Son, be great! We're authors now!' " Xavier Zsarmani Sr. recalled after the duo had finished autographing copies of their kids' book, "How to Catch a Bull Fish."
XJ, 6, carefully signed his name and flashed his million-dollar grin for more than an hour while he and his dad posed for photos with friends and family members who came out to support their literary endeavor.
The idea for the book came from XJ's love of fishing with his dad. (He enjoys playing golf with his dad, too.) During a trip to a friend's pond, they snapped pictures that were used in the book with some digital enhancement.
XJ was adamant that he wanted to catch a bully fish.
When asked what a bully fish is, XJ doesn't hesitate to answer:
"It's chubby and fat," he said, "and it bullies other fishes. And the other fish get mad."
Later, during the interview, he cracked a little joke.
"What's in the bully fish's belly?" he asked. "Just worms."
They have plans for at least four more books and maybe an interactive video game. Zsarmani is also in talks with a major retailer about featuring the book in its fishing section — and they hope to share the book with students throughout Iredell-Statesville Schools.
The book signing did not begin until after Zsarmani had introduced his wife Tonya — and given her credit for everything — and extolled the athletic and academic accomplishments of their daughters, Shakia, Zayda, Jayda, Olivia and Laila. He also thanked his friends and family members for their support.
Zsarmani teared up as he looked out at the line of people waiting for his son to sign a copy of the book.
"My brother sitting at that table, my mom, my wife and children — it doesn't seem real. It's like a dream. No words can explain the joy and the feelings," he said.
LEARN MORE
Visit https://catchbullyfish.com/
Photos