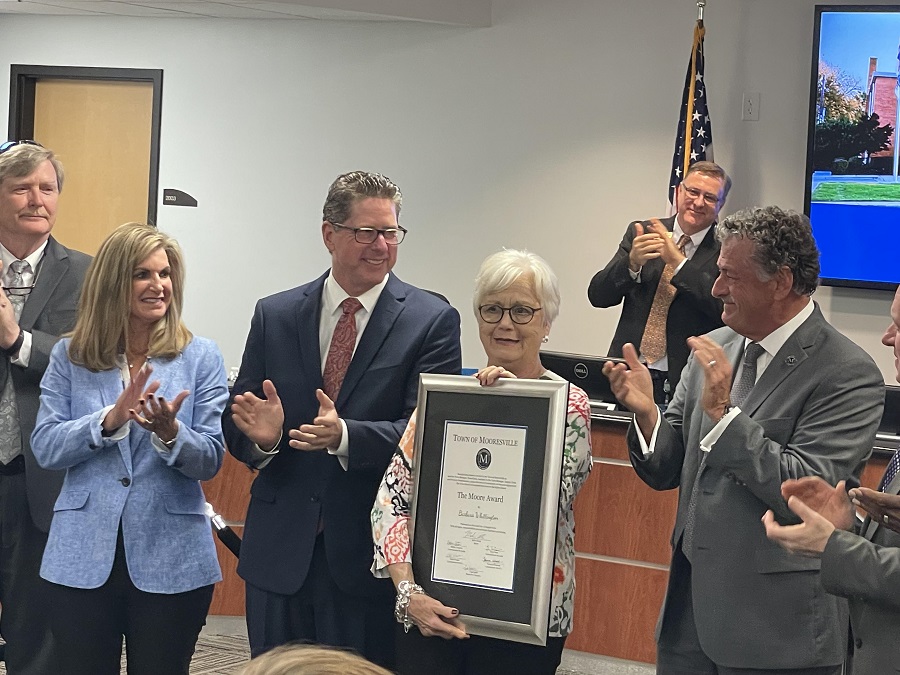 FROM STAFF REPORTS
Mooresville Commissioner Bobby Compton couldn't help himself.
On a night when former Commissioner Barbara Whittington was presented The Moore Award honoring her for nearly four decades of service to the town, Compton had to share one of his favorite moments from his friend and former co-worker's long and now distinguished career
During her career as town clerk, assistant to the town manager, assistant manager and interim manager, Whittington was a stickler for detail. If an employee wanted to get reimbursed for a meal or gas for an out-of-town trip, Whittington was adamant that they turn in the appropriate receipts.
"She made sure the i's was dotted and the t's was crossed, and if they weren't she let you know about it," Compton said. "It took four people to replace Barbara."
When Whittington began working for the town in 1965, Mooresville's population was about 5,000 and the town had less than 100 employees.
She learned the importance of following policy and procedure from her supervisors. Once, when a police officer was incorrectly reimbursed for a cigar, the town manager made her go down to the Police Department and get 35 cents from the officer, Whittington recalled.
What no one taught Whittington during rise through the ranks was how to operate the lights and sirens on a police car. So, one day after taking a police car to Statesville for town business, she inadvertently activated the blue lights and flashed them the entire way back to Mooresville.
Compton shared that little anecdote during Tuesday's award ceremony, noting that many drivers pulled over to get out of Whittington's way.
"That was the worst thing I've done," said Whittington, drawing a laugh from her former colleagues and the large crowd, which included more than a dozen of her family members. "Very embarrassing."
After being praised by Compton and receiving a standing ovation for her dedication to the town, Whittington expressed her appreciation for The Moore Award, the highest award bestowed upon a citizen by the Town of Mooresville. The award has only been presented twice.
She also thanked the town commissioners for their friendship and said serving on the board was "a wonderful experience."
Whittington, who did not seek re-election in 2022, told the crowd that their local government was in good hands.
"I'm leaving the town with a wonderful board," she said. "I did vote for all of y'all."
On a night when several residents and town employees were recognized, town commissioners and staff presented the following honors:
♦ Recognition of Coach Napolean Lowery Jr. for 50 years of service in the Town;
♦ Recognition of Matthew Hilton, who retired from the Public Utilities Department on August 1, 2022, after over 25 years of service to the Town;
♦ Recognition of Michael Thompson, winner of the 2022 Service Excellence Award for Pride;
♦ Recognition of Jim Donaldson, winner of the 2022 Service Excellence Award for Safety; and
♦ Recognition of Shawnjay Holtham, winner of the 2022 Service Excellence Award for Excellence.