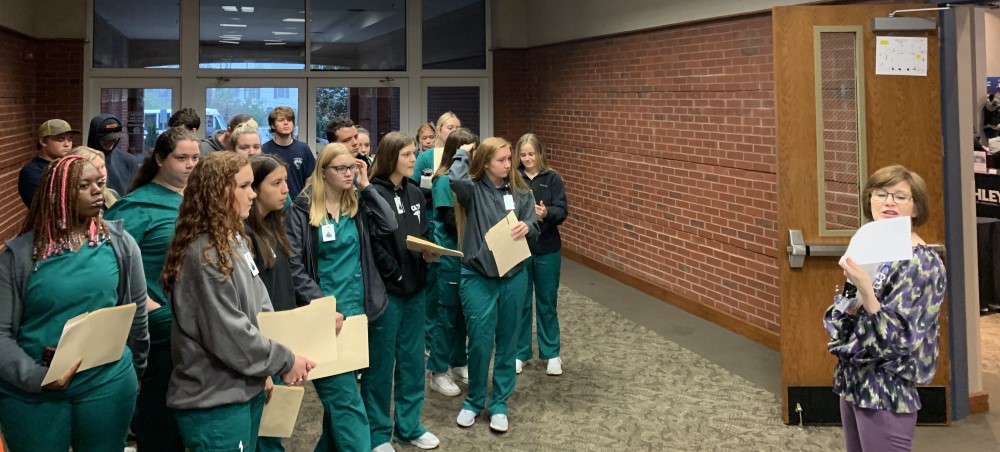 BY BRANDY TEMPLETON
More than 400 Iredell-Statesville Schools seniors attended a Career Fair at the Statesville Civic Center on Wednesday to learn about employment opportunities awaiting them after graduation this spring.
I-SS, the Iredell Economic Development Corporation and the Greater Statesville Chamber of Commerce collaborated on the event, which attracted representatives from 60 different companies such as Pinnacle Institute of Cosmetology, G.L. Wilson Building, Iredell Health Systems, Ashley Furniture, Statesville Brick, and Mitchell Gold + Bob Williams.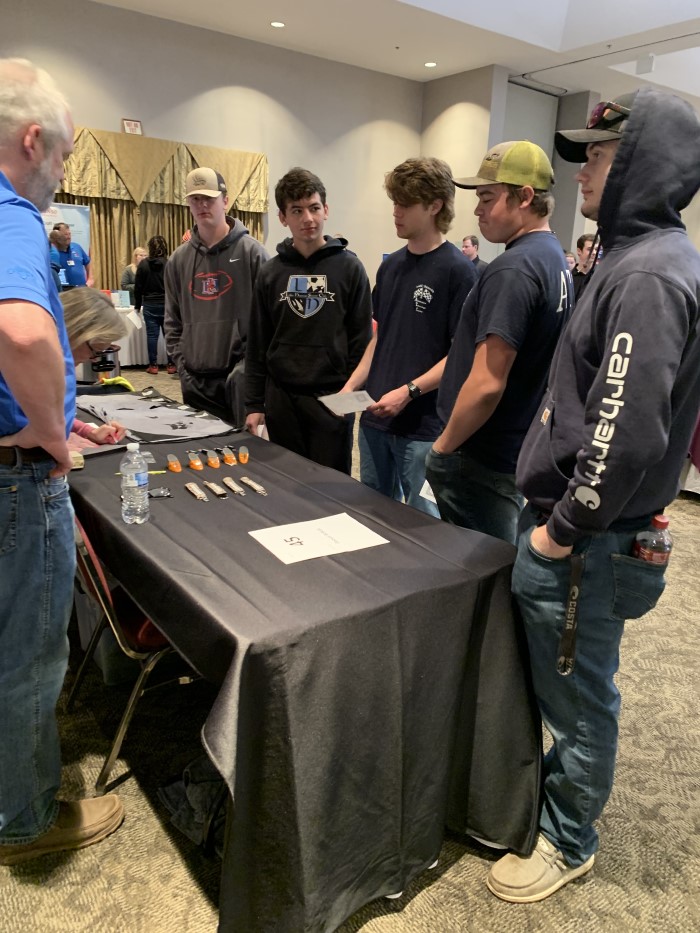 Several trades were showcased, and representatives explained the process of hiring and training to students.
Todd Williams, executive director of industry, trade, and business development for I-SS, said he was pleased with the student turnout, which was 10 times greater than participation in last year's virtual fair.
"This year we targeted seniors that are going to work," Williams said.
Local employers, he said, are eager to hire these future graduates.
"Employers need people now — not two years from now or four years from now," Williams added.
I-SS has parntered with several businesses for pre-apprenticeship initiatives to help students train for their careers before they graduate. These programs are for students ages 16 to 18 and prepare students for actual apprenticeships with companies.
Jenn Bosser, president and CEO of Iredell EDC, was excited to see so many seniors and employers participating in the career fair.
"Connecting future graduates with our existing industry exposes them to career opportunities right here in Iredell County," she said. "We appreciate our partnership with industry, Iredell-Statesville Schools, and the Greater Statesville Chamber of Commerce in making these connections to strengthen our workforce pipeline."
I-SS Superintendent Jeff James called it a milestone event for district students.
"I think today embarked upon a great partnership with our business community, Iredell EDC, the Chamber, community college and I-SS ensuring our students have the opportunity to look at employment in their local community," James said.
North Iredell High School Principal Diana Jones said several of North's students want to go into welding or learn how to build things. She was in "awe" of the turnout, pointing out how many employers showed up.
"What a great day to live in Iredell County," Jones said. "Our community wants the next generation of kids to stay or come back to Iredell County to stay after they further their educations."
Jones came to support her students and offer them helpful hints.
"We've prepared them to dress well and to bring professional resumes," she shared. "It's a great way to dip their toes into the adult world."
Many of the students participating were from North's career and technical education classes, and Jones indicated how proud she was of them.
""A lot of North kids have part-time jobs already and they're trading in their jobs for a career."
Statesville High School student Ashon Voss spoke with Pratt Industries about possible employment.
"I'm just getting to know things," he said. "I want to do something in welding."
Pratt Industries makes 100 percent recycled corrugated boxes and displays.
Human Resources Manager Karen Bumgarner explained Pratt's apprenticeship program with Mitchell Community College.
"Our maintenance technicians work four days a week and go to school one day a week," she said. "They have a mentor here to help them."
As an incentive to stay, Pratt pays for employees' education after one year of full-time employment.
"If it's in the field or beneficial to the company, we will pay for it," Bumgarner said.
Lake Norman High School students Braxton Morrison and Chris Lee liked the continuing education options and were glad they took part in the fair.
Morrison wants to go into welding, but he has to wait until he's 18.
"Today helped by companies flagging me down and offering information," he said.
Lee plans to go to Mitchell Community College to study psychology, but he wants a job now to help pay for school.
"I wasn't looking into labor services because I want to go to college full time," he said. "But this helped me see jobs that are out there."
Many of the companies are starting students off with $16 or $17 an hour positions that offer on-the-job training and reimbursement for tuition or other incentives.
Jerry Burgdofer represented Kewaunee Scientific Corporation, a local company with over 600 employees.
"Like all employers, we are looking for the future, and the future belongs to high school and college students," he said. "Unfortunately, there are more openings than applicants right now. We're here to reach out because a lot are looking for better opportunities.
Ashley Blythe, with Concrete Matters, was among industry representatives who met with the seniors.
"I'm really excited the kids have the opportunity to see all the options out there and that it's a much bigger world," Blythe said.
Larry Rogers, principal of I-SS Career Academy & Technical School, said his students had a great time at the career fair. Twenty-five CATS students attended the morning session and 22 came for the afternoon.
"I thought it was a great event and opportunity for the students to go to one place and talk to employers about future jobs," he said. "It was a wonderful event. Students were most appreciative for opportunity."
Rogers appreciated all the hard work put into the event.
"I want to congratulate Todd Williams. He did an excellent job. The feedback from the students was there were great vendors, it was well organized and well attended," he shared. "It was probably the most positive thing since the pandemic started. My kids really enjoyed it."
Photo Gallery