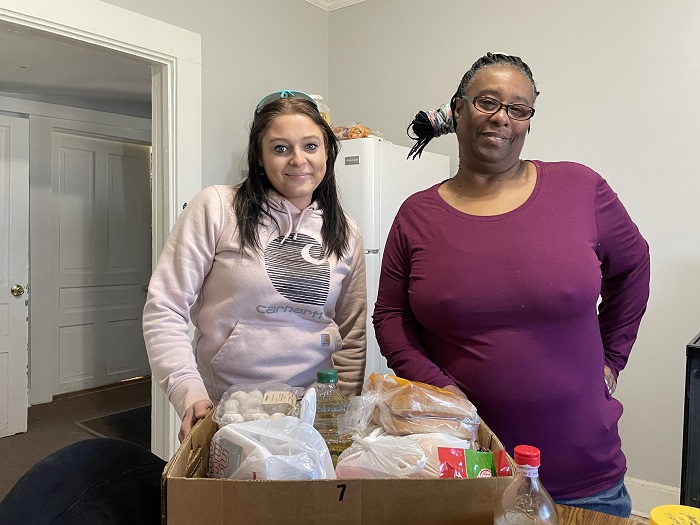 EDITOR'S NOTE: This article was originally published in the February edition of our new magazine, IFN Monthly. Click HERE for a list of locations where you can pick up a copy.
BY MIKE FUHRMAN
Connie White felt a little relieved when a Ford Mustang pulled into her driveway on a recent Tuesday morning and she saw the driver approaching her house carrying a little box from heaven.
The Statesville great-grandmother has been looking for a new place to live after her landlord notified her a couple months ago that he had sold White's home for the past 11 years — and she needed to be out by the end of the month. Finding affordable housing has been a challenge for White, and she was understandably a little stressed about it.
In addition to her recent housing challenges, White, who is 68 and disabled, is one of thousands of food insecure individuals in Iredell County. During the months when she runs out of money, she relies on Iredell Christian Ministries to help fill her cupboard. Because she doesn't have a vehicle, she has had to rely on friends and family members for a ride to the nonprofit food pantry, which is more than a mile from her home.
So when Door Dash driver Lakin Harris arrived with a box of canned goods, meats, pasta and bread, it was a welcome sight for White, who lives on about $1,100 a month.
"If I need food, I call them," she explained, adding that her monthly benefits have not kept pace with rising costs. "It's not enough to pay my rent, gas, lights and stuff."
'This is so overwhelmingly needed'
Local United Way officials have been exploring ways to help low-income residents like Connie who do not have access to transportation.
Near the end of 2021, Director of Community Investment Sara Helmick wrote a grant request to help address that need. That grant request was only one of 81 approved nationwide.
United Way Global and Door Dash funded the grant, which was originally intended to cover the cost of 520 deliveries in 2022. Between April of 2022, when the Ride United Last Mile delivery program began, and the end of the year, more than 1,489 deliveries were made.
"That speaks to the need. We didn't make it a full year, and we were almost triple our goal," Helmick said.
In addition to delivering food boxes from Iredell Christian Ministries, Door Dash drivers are also delivering food from Fifth Street Ministries and Feed NC. On a smaller scale, drivers are also delivering diapers provided by the Iredell County Partnership for Young Children and feminine hygiene products donated by Maidens and Matrons.
"We're expanding it to the needs we see, but we're trying to keep it to the necessities," Helmick said.
Going forward, the United Way will have to raise local funds to support this initiative. United Way Global and Door Dash, which covered the first year's expenses, will cover a portion of the cost of deliveries in 2023, when the grant ends.
"We have to find a way to keep this alive," Helmick said. "This is so overwhelmingly needed in our county."
'New clients every day'
The staff at Iredell Christian Ministries submits delivery orders to the United Way for approval and then has food boxes ready for pick-up each morning.
Currently, the nonprofit is providing food to about 12 households per week using the delivery service.
Most of the clients who use this service have come to rely on it, according to Iredell Christian Ministries Executive Director Joy Morrison.
"They don't have transportation and they don't have food in the house," she said.
Overall, the nonprofit provides food for more than 600 people per week. Most of the food comes from the Second Harvest Food Bank, but Iredell Christian Ministries also buys fresh fruits and vegetables from local stores. The nonprofit also receives regular donations from individuals, organizations and businesses.
Although the demand for food declined sharply during the COVID-19 pandemic, it has nearly rebounded to pre-2020 levels, according to Morrison.
As vaccination numbers increased and the number of serious illnesses in the community declined, people felt more comfortable coming back to the food pantry. Government benefits related to the pandemic have also been reduced as inflation has increased, causing some families to struggle.
"We still see new clients every day," Morrison said.
The staff, including the director, has made emergency deliveries in the past, but does not have the staffing or vehicles that would be required to incorporate delivery into its regular services.
The Ride United initiative, she said, has really helped clients who otherwise would have had to take an ICATS bus or pay steep cab fares to get to and from the pantry.
"It has been a wonderful thing to tell them about this option," Morrison said. "I'm hoping that it keeps going. It scares me for the day it doesn't."
'A blessing'
Harris, the Door Dash driver, arrived at Iredell Christian Ministries about 10 a.m. on Tuesday morning. A staff member rolled out three three boxes of food, and the Door Dasher was on her way. In less than 30 minutes, she had made all three deliveries.
Her last stop was James Cheek's home off Pearl Street.
Cheek, who is 64 and still works but does not have a vehicle, said his landlord raised his rent last year. Increases in his utility bills and rising grocery costs have also presented challenges.
"Everything went up except my payroll check," he said.
The food donation from Iredell Christian Ministries and the new delivery service have helped him immensely.
"I count it as a blessing that they can help those who are less fortunate and those like me that are a little more fortunate," he said.