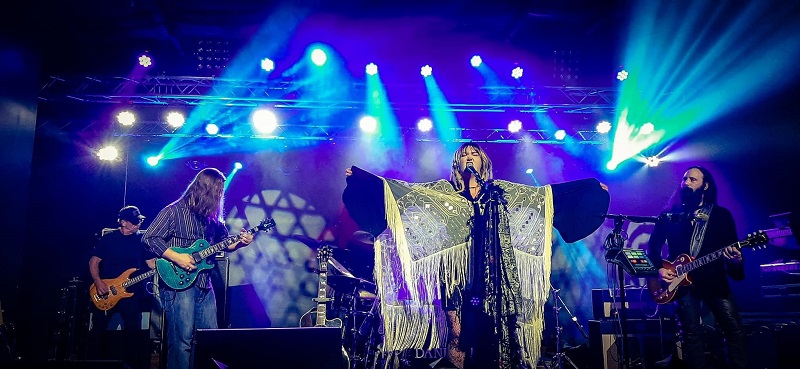 Special to Iredell Free News
The 2023 Piedmont HealthCare Friday After 5 Summer Concert Series resumes in Downtown Statesville on Friday, August 4, with the Southern rock sounds of Dani Kerr & the Skeleton Krew.
Kerr was recently featured on "America's Got Talent" and impressed the judges and audience with her talent. She will return for the live shows this fall.
Dani Kerr & the Skeleton Krew is an electric, high-energy group that creates a unique blend of soul-powered Southern rock-and-roll. The Skeleton Krew will take you on a nostalgic ride of raw music influenced from Southern rock, hard rock, soul, blues, funk and jazz.
The Piedmont HealthCare Friday After 5 Summer Concert Series offers free entertainment to Statesville's residents, neighbors, and visitors from May through September and features music of all styles.
The concerts are held in Downtown Statesville on West Broad Street in front of Mitchell Community College from 6 to 8:30 p.m. Beer, wine, spirits, soft drinks, water, and food will be available for purchase beginning at 5pm. Bring your chairs and enjoy a great night of music, but remember no pets, outside beverages, or coolers are allowed.
Start your evening by visiting the welcome tent sponsored by Randy Marion at the entrance to purchase your tokens before heading over to the beverage tent!
Southern Distilling Co. is the Hospitality Tent sponsor this year. In addition to sampling their delicious bourbons, they will be serving their signature cocktails: Salt & Honey Old Fashioned and the Statesville Slipper Bourbon Mai Tai.
Red Buffalo Brewing will be on hand pouring Clocktower IPA, Center Street Ale, Blue'sberry Ale, Angry Brunette Black Ale, Mouthy Blonde Ale, and Cranberry-Apple Seltzer.
Andrea's Ice Cream & Sweet Shop, Wilson's Weenie Wagon, The Truk Food Truck, and Waffle Chick will be serving food, sweets, water & soft drinks.
Next Concert
♦ September 1: Chicago Rewired – The Premier Chicago Tribute Band with REO/Survivor & Co. (This concert starts at 5:30 p.m.)
Sponsors
The Piedmont HealthCare Friday After 5 Summer Concert Series is produced by Downtown Statesville Development Corporation and the Greater Statesville Chamber of Commerce and is made possible by our gracious volunteers and these valued sponsors: Piedmont HealthCare, Randy Marion Ford Lincoln, Southern Distilling Co., Accellacare, DENSO, Allen Tate Realtors, Carolina Specialty Care, Carolina BalloonFest, AFC Urgent Care, Hilton Garden Inn, Mitchell Community College, Banner Drug, Sound Check Live, HunkaJunk Hauling, City of Statesville, Iredell Free News, Homerun Markets, WAME Radio 92.9.
Parking
Parking is available throughout Downtown in nine public parking lots. Mitchell Community College invites guests to park in their various lots surrounding the event. For public lot details, visit https://www.downtownstatesville.com/directions-parking.