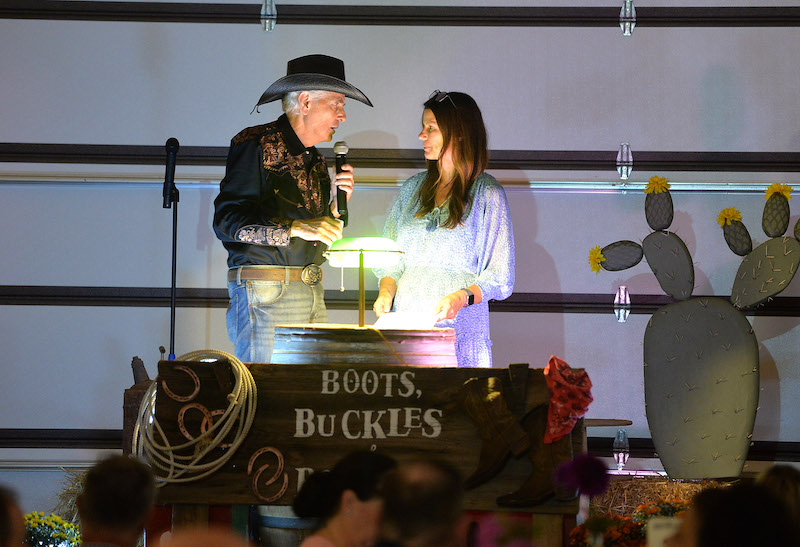 BY KARISSA MILLER
Rescue Ranch's annual Boots, Buckles and Bourbon fundraiser was a huge success, raising around $110,000 for the local nonprofit.
Founder Krissie Newman said she was thrilled by the event — and the community's support for the animal welfare organization.
"We raised more money than we have in several past years. It was a fun night. We had great attendance," Newman said.
The money will support the animals and humane education programming at Rescue Ranch. The funds will help provide veterinary care, nutrient-rich food and supplies for the more than 80 animal ambassadors and the animals in the nonprofit's adoption program.
Nearly 300 people attended the Boots, Buckles and Bourbon fundraiser at The Preserve at Southern Distilling on August 26.
During the cocktail hour, guests had an opportunity to mingle with Rescue Ranch's newest rescued guinea pig Bentley and fan favorite Jordie, the 30-year-old African grey parrot, and other exotic animals.
The destination trip auction brought in $5,000 and the silent auction raised more than $20,000. Items included everything from a tractor to homemade pickles, and a pair of Golden Goose sneakers autographed by Newman and several NASCAR wives.
Newman's mom took the time to get the sneakers signed. Newman was pleasantly surprise that the shoes brought in $725 in support of Rescue Ranch.
Newman said her parents support the ranch and her efforts in any way they can.
The dinner was sponsored by Outback. Southern Distilling and Stutts Marina were also major sponsors.
WCNC meteorologist and emcee Larry Sprinkle, who was dressed from head to toe in Western attire, energized the crowd.
"One of my purposes that night was to be that inspiration for people making a contribution," Sprinkle said.
Sprinkle announced different levels of sponsorship that attendees could sponsor, including a $2,000 level for the ranch's miniature horses to a $200 donation to sponsor a child in the community to attend Critter Camp.
"They provide a safe space for about 80-plus animals. They have every type of animal you can imagine … I have so much respect for what they do," Sprinkle said.
"It was very special to have the opportunity to represent one of their biggest fundraisers for the year. What they are doing means so much to the community," he added.
Executive Director Michelle Hepler said she couldn't be happier with the outcome.
"It was a bit overwhelming. It certainly filled the team, staff, volunteers and everyone that was involved in the planning, setup and it filled our cups and filled our hearts with gratitude that our community supports the work that we do," she said.
About Rescue Ranch
Rescue Ranch is a 501c3 non-profit animal welfare organization co-founded by Krissie Newman and NASCAR driver Ryan Newman in 2012. Located at 1424 Turnersburg Highway in Statesville, Rescue Ranch provides permanent residency to more than 80 rescued animals.
Photos