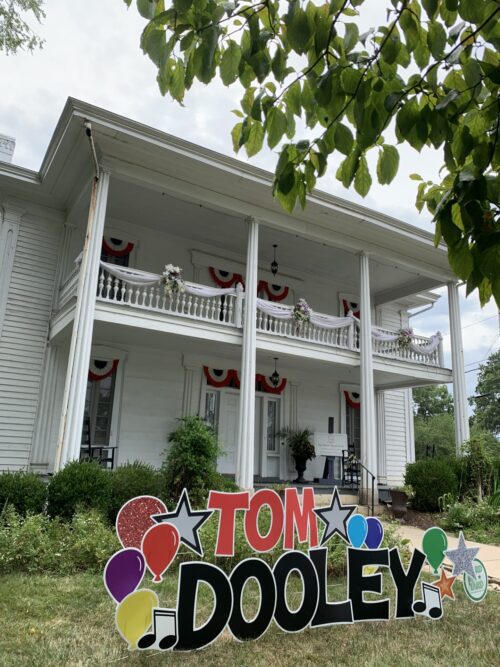 BY BRANDY TEMPLETON
Tickets are still available for an upcoming signature event of the summer season at The Historic Sharpe House. "Appalachian Music BBQ: Remembering Tom Dooley" is scheduled for 4:30 p.m. on Saturday, July 29, at the local landmark.
Keith Rhyne, site director and event coordinator for The Sharpe House, promises a night of good food and great musical entertainment.
Along with a barbecue dinner, guests will be entertained by Jason and Mackenzie Wood of The Wood Family Tradition and guitarist Daniel Wicker.
The story of Tom Dooley (aka Tom Dula) is intertwined with the history of Statesville.
"The story of Tom Dooley belongs to Statesville, since we hosted his final trial," Rhyne explained. "He was convicted after single-handily confessing to the murder of Laura Foster."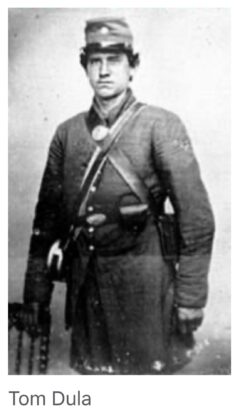 However, the history enthusiast said the story isn't that simple.
"People are attracted to the story because it's really an unsolved mystery," he said. "The reason this tale is so popular is because there are different groups of people thinking Tom's lover did it," Rhyne said.
In fact, the story weaves a tangled thread through a sordid love triangle.
Dula, was from Wilkes County, was Foster's lover and the father of her unborn child, but he was also romantically involved with Anne Foster Melton, Foster's cousin.
The pair had been sweethearts since the young age of 12 until Dula left for the Civil War. After his return from the battlefield, the couple resumed their relationship even though Anne was a married woman. Dula also started a relationship with Laura and was also seeing Laura Foster's other cousin, Pauline.
During the entanglement, Laura was found stabbed to death in 1866.
Pauline alerted law enforcement to Laura's body and accused both Tom and Anne.
However, Anne was acquitted after Dula took sole responsibility.
Many still believe Anne to be the culprit, but the secret was taken May 1, 1868 on Statesville's infamous Depot Hill.
It was there that Dula was hanged and took his last breath.
The Historic Sharpe House, home of Statesville's first mayor, Col. Silas Alexander Sharpe, was being built the year Laura Foster died. It sits not far from Depot Hill.
As a child, John M. Sharpe, watched from the porch as Dula was taken in a wagon, followed by his coffin, to Depot Hill.
Some 3,000 people, including some who traveled from New York, lined Statesville's streets to watch as well.
"As he (John Sharpe) recalled, a good looking man with longish hair was riding with a casket in back waiting to be hanged," Rhyne shared. "It was the first national murder trial sensationalized by the New York Times."
Years later, the story would still be told and people would still be talking and singing about Tom Dooley. His signature song, considered an Appalachian "Sweetheart Murder Ballad," was written shortly after his death.
It became iconic in 1958 The Kingston Trio version reached No. 1 on the Billboard Hot 100.
It will be one of the songs performed at the BBQ.
Rhyne says other popular songs from the time period will be sang, including "When I heard the Bluebird Sing," by Ed Brown and "The Legend of the Rebel Soldier."
The dinner will include pork barbecue, baked beans, corn on the cob, potato salad, red and white slaw, yeast rolls, corn muffins, and desserts, including pineapple upside down cake, banana pudding, and Mama Jen's Double Vanilla Poundcake with the fixings. There will be tea and lemonade, and guests will have the option to purchase beer and wine tickets with two drinks per ticket.
Tickets
To purchase tickets, visit Eventbrite.com.