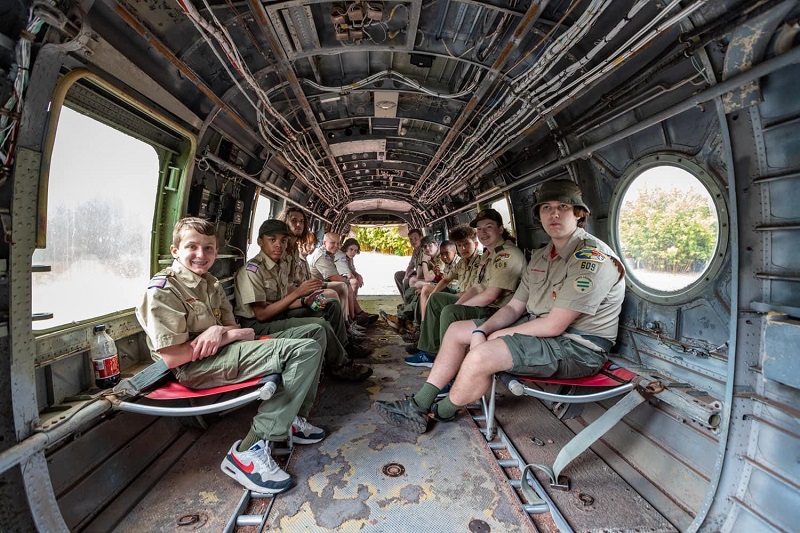 Special to Iredell Free News
Boy Scout Troop 609 spent a weekend in March touring historic sites in Charleston, S.C.
The troop spent a Saturday morning at Corps Day at The Citadel, the Military College of South Carolina. Corps Day celebrates the birthday of The Citadel's Corps of Cadets. Scouts toured the barracks as well as observing the Summerall Guards and a full dress parade.
The troop then toured the USS Yorktown and USS Laffey at Patriots Point. Scouts were able to view historic aircraft on both the hangar deck and flight deck in addition to the numerous living spaces on board the retired aircraft carrier USS Yorktown. On board the USS Laffey, scouts toured an interactive exhibit in one of the retired destroyer's gun mounts. The troop also visited various sights in historic downtown Charleston before heading to Camp Moultrie to camp on the banks of Lake Moultrie.
On Sunday, the troop toured Fort Moultrie on Sullivan's Island. Scouts learned about the historic fort's participation in the Revolutionary War, Civil War, and World War II.
Life Scout Evan Shelton said his favorite part of the trip was camping on Lake Mountie.
"The sunset over the lake was awesome" said Shelton.
Tenderfoot Scout Sam Rufty's favorite thing was visiting the aircraft carrier USS Yorktown. Rufty said he enjoyed the historical significance of the ship and learning about the carrier's role as the recovery ship for the Apollo 8.
LEARN MORE
Troop 609 meets on Monday nights at 7 p.m. at the troop's scout hut located 2019 Davie Avenue in Statesville. Boys age 12-17 are welcome to visit the troop's meetings. The troop will be attending summer camp at Camp Bud Schiele June 25 through July 1. For more information about Troop 609, contact nctroop609@yahoo.com or call 704-929-5050.
Photos