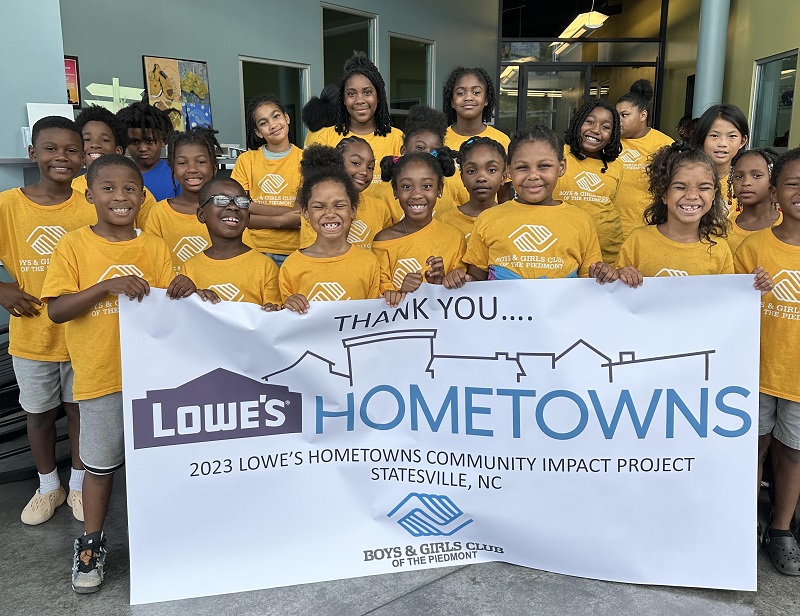 Special to Iredell Free News
The Boys & Girls Club of the Piedmont has been awarded a Lowe's Hometowns Community Impact Project grant.
After reviewing this year's nominations, 100 projects were chosen as part of the company's largest-ever community impact program – a five-year, $100 million commitment to rebuild and revitalize community spaces nationwide and give back to the communities served by Lowe's. Projects were selected from 94 communities across 41 states and Washington, D.C.
The Boys & Girls Club of the Piedmont's project includes replacing outdated playground equipment, making upgrades to the outdoor basketball courts and landscaping. New playground equipment will be purchased with grant funds provided by Lowe's.
At the core of this commitment to the community are Lowe's red vest associates, who share a passion for giving back to their communities and providing support for the completion of projects.
The Boys & Girls Club will work with Lowe's officials to schedule a red vest day with Lowe's associates who will be volunteering to work on the Club's project. The target completion date for the project is late September.
Marvin Ellison, Lowe's chairman and CEO, called it "an honor to support the Lowe's Hometowns projects."
Points of Light Interim President and CEO Diane Quest said, "We know nonprofits in the U.S. rely on varying sources of funds to sustain and grow their services, and large grants like Lowe's Hometowns can be transformational. These investments have a ripple effect and create long-term, positive change that enriches the lives of residents, families and the community for generations."
The Boys & Girls Club of the Piedmont has served children in the community since 2007. The Club operates an after-school program from 2:30 until 6:30 p.m. daily when public schools are in session and a daily summer camp from 7 a.m. until 6 p.m. when the public schools are closed for summer break.
All children receive access to academic tutors, structured activities and lessons in character education, physical activities, the visual and performing arts as well as career awareness and training. In partnership with local public schools all children receive daily snacks and full meals. In addition to providing services on the main campus in south Statesville, the organization also operates a satellite club on the campus of Shepherd Elementary School in Mooresville. The club currently serves approximately 350 children in grades K-12 from 18 different public schools and charter schools throughout Iredell County.
"Our Club sincerely thanks Lowe's for this very generous gift that will allow us to continue serving the children in our community that need our support most. What an exemplary model of outstanding corporate citizenship Lowe's and her associates are for our community and nation," said Ray Englebert, chairman of the board for Boys & Girls Club of the Piedmont.
"We have been pursuing funding for this much needed project for a few years," added Clarissa Young, executive director of the Club. "We are extremely grateful to Lowe's for making this needed improvement a reality for our children."
A ribbon cutting and dedication of the new playground and refurbished courts will be scheduled for early fall of 2023 at the Club's Cochran Street campus.
LEARN MORE
Visit Lowes.com/hometowns and follow #LowesHometowns on social media for details on this year's projects.