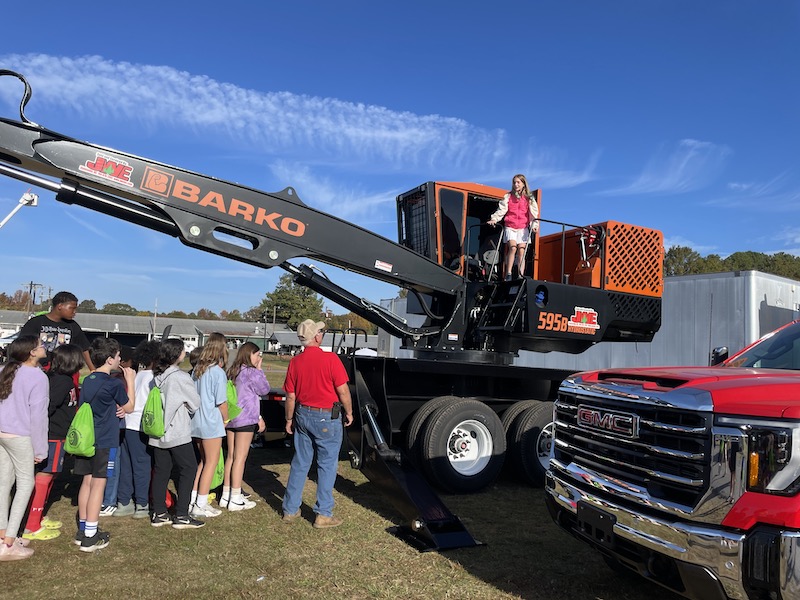 BY KARISSA MILLER
About 2,000 sixth-graders from Iredell-Statesville Schools and Mooresville Graded School District were bused to the Iredell County Fairgrounds on Friday for the second annual Careers on Wheels event.
One of the goals of the event is to introduce students to a variety of career choices at an impressionable age.
More than 60 representatives from health care, advanced manufacturing, hospitality and tourism, landscape, automotive and other fields were represented at the event.
Under sunny skies, students descended on the fairgrounds and were assigned a color zoned quadrant. The student groups would then visit all the stations in their zone before moving to the next zone.
"This is our kick-off to career exploration for middle school. It allows students to explore careers in an interactive way, talk to people, ask questions, and it all ties into the Major Clarity lessons that they do in the classrooms," said I-SS Career Development Coordinator for middle school Juli Tipton.
Major Clarity is an online platform for career exploration that helps students choose a career pathway.
"By the time they leave eighth grade, we want every student to have a pretty good idea about what they want to do as a career. This will help them choose the right elective classes and experiences. Hopefully, it will lead to a fulfilling career someday," Tipton said.
In high school, if students declare what they are interested in pursuing early, hey are able to participate in apprenticeships, internships and other work-based learning opportunities.
"Our public schools do so much above and beyond education. We hope the public sees all the fantastic opportunities that we offer beyond just traditional classes," Tipton said.
Students were eager to learn about different types of careers and options available to them.
Third Creek Middle School student Eliza Blankenship said that her favorite booth so far was the Iredell County EMS station.
"I liked being able to see the inside of an ambulance," she said.
She's interested in ballet, but said she enjoyed getting learn about a variety of careers.
"All of these jobs show you what you can do in the future," she said.
About the event
The event was hosted by Iredell-Statesville Schools' Career and Technical Education Department in collaboration with Mooresville Graded School District's Career and Technical Education (CTE) Department, Mitchell Community College, Iredell Economic Development Corporation and the Greater Statesville Chamber of Commerce.
This event is part of Iredell Ready, a county-wide workforce initiative for the purposes of cultivating career exploration, promoting lifelong learning, and closing the skills gap for Iredell County employers.
Photos