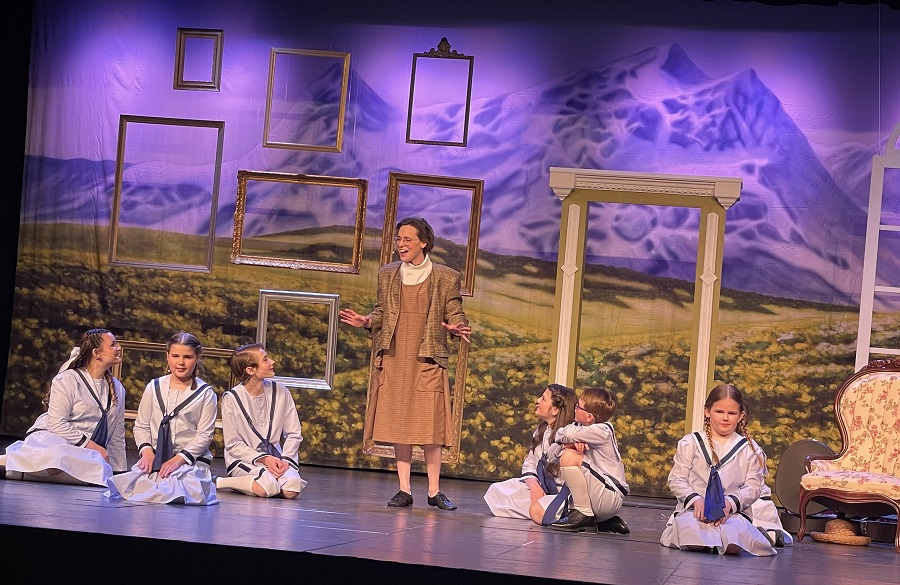 BY MIKE FUHRMAN
The upcoming Center Stage Alliance production of "The Sound Music" is sure to entertain long-time fans of the Rodgers and Hammerstein classic as well as infrequent theatre-goers looking for a fun night out.
Director Josh Myers has assembled a talented group of performers, including several big-time local vocalists and a Hollywood veteran, for a two-week run that begins Thursday night at Statesville High School.
During a final dress rehearsal on Wednesday, Myers focused on fine-tuning the most minute details of the production, tweaking everything from the slightest movement of a first dance to the final leap in a kids' game of leapfrog. There was also time for a proud papa moment as his son teenage Cru, who plays Rolf, danced and sang his way across stage.
At the end of a long night, Myers declared the cast and crew were ready for opening night. He got a little emotional as he talked about the hard work and collaboration that began during rehearsals and culminated in Wednesday's run-through.
"To build this whole show as a team and see it from start to finish without having to fix anything was just moving," he said late Wednesday night. "It's a beautiful show. … I can't imagine a better cast. It is really stacked with vocal talent."
Historic Mac Gray Auditorium is an ideal venue for this show, and the lighting and set design are fantastic.
Any production of "The Sound of Music" will rise or fall on the quality of the vocals. Maria, played by Ashley Gardner, and several of the nuns, including Tennille Sherrill (as Mother Abbess), Karla Kincaid (Sister Sophia) and Marsha Angell (Sister Margaretta), displayed Wednesday that they have the pipes to make this a memorable experience for theatre-goers.
The von Trapp kids — played by Sydney Stevenson, Ian Miller, Echo Myers, Eastman Jewell-Batchelor, Piper Collins, Phoebe Kincaid and Scout Stevenson — have plenty of chance to shine as well.
As you would expect, veteran L.A. actor Mike McColl commands the stage as Captain Georg von Trapp. He might be more accustomed to the bright lights of Hollywood, but McColl easily adapts to the small stage of community theatre. Fans of "Grey's Anatomy" will recognize his steely facial expressions and enjoy watching him perform alongside local talent.
During his two months in Iredell County, McColl gave freely of himself, sharing lessons learned throughout his 25-year career with the entire group.
"Nobody acted weird around him," Myers, who is McColl's cousin, explained. "They just knew him as Mike, the fun guy playing the captain. "We've all lifted up our game thanks to him and thanks to the way we work together."
Showtimes & Ticket Info
Shows are at 7:30 p.m. on March 16, 17, 18, 23, 24 and 25, and at 3:30 p.m. on March 19. Tickets are available in advance online for $16, or at the door for $20. To purchase tickets online, visit www.centerstagealliance.org.
Photos