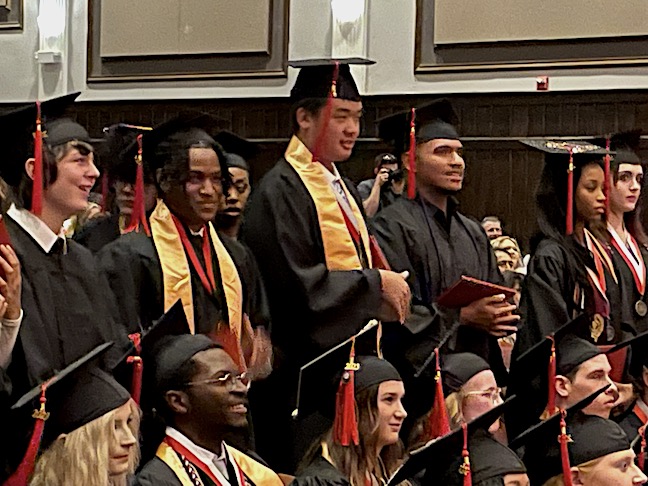 BY KARISSA MILLER
Years of hard work and perseverance paid off for the Class of 2023 at Crossroads Arts and Science Early College High School on Friday afternoon.
The reward was a high school diploma for every member of the class, an associate degree for the vast majority and more than $1.3 million in scholarships.
"Remind yourself that despite everything, you made it here today, not through luck but through your hard work, perseverance and resilience," Yajat Govardhan, a summa cum laude graduate, said during his message to his classmates.
Fifty-six graduates were recognized in the ceremony inside Mac Gray Auditorium, with 77 percent of the the grads being noted as honor graduates.
Summa cum laude graduate Kaylee Greer welcomed the crowd and noted some of the obstacles that the Class of 2023 endured as they worked their way to their senior year.
"From taking college courses three years early to having rigorous high school curriculums, I think we can all agree that early college is difficult," she said. "I invite you to reflect on the past few years and be proud of yourself today."
Isabel Ebin, another summa cum laude grad, spoke to the crowd about "liminality."
"Liminality is a state of having partial membership in two different worlds, while being fully a part of neither of them," she said. "Basically, it's being in-between."
"We've got one foot in childhood and one foot in adulthood, and sometimes that's hard," she added.
She encouraged the grads to live and learn from their own life experiences and not from other people's advice or their own anxieties about the future.
Chloe Breece, a summa cum laude grad, encouraged graduates to enjoy the moment in her farewell remarks.
"I hope that maybe you will all think back on this day fondly. We still have so much of our lives ahead of us to fail and succeed and make big decisions and meet new people and do weird stuff to our hair," she said.
Principal Alicia Eller got emotional while talking about the Class of 2023, noting that they took "the harder, less traveled path" and experienced many ups and downs. She said that they survived over a year of online and hybrid learning during the COVID-19 pandemic. Many worked part-time jobs and played sports.
"Let me say it one more time, I am proud of you," she said. "I wish you all the best as you continue your journey, and I look forward to seeing where the road takes you."
Eighty-nine percent of the class of 2023 is on track to earn an associate degree or certificate from Mitchell College by the end of the summer 2023 session. Eighty-four percent has committed to further their education in the fall by attending a trade school, a community college, or a university.
Photos