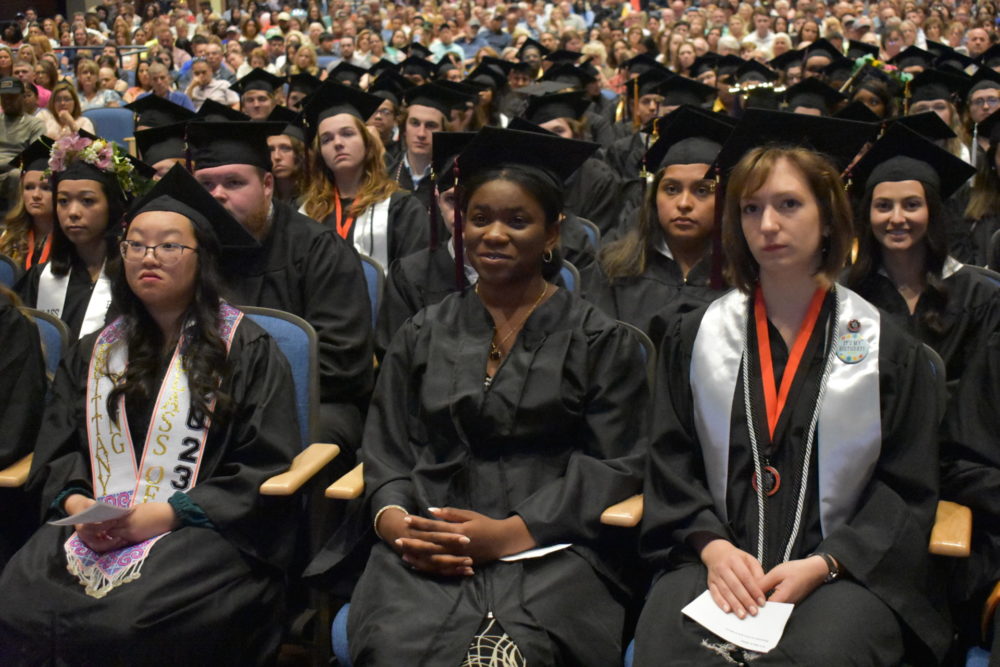 Special to Iredell Free News
Smiles, laughs and tears of joy filled the Mooresville Performing Arts Center on Saturday as Mitchell Community College honored over 700 students who earned associate degree, diplomas and professional certificates during a pair of commencement ceremonies.
Dr. James T. Brewer, president of Mitchell Community College, encouraged the students to embrace the change and progression that will occur throughout their lifetime, beginning with the milestones they reached this spring.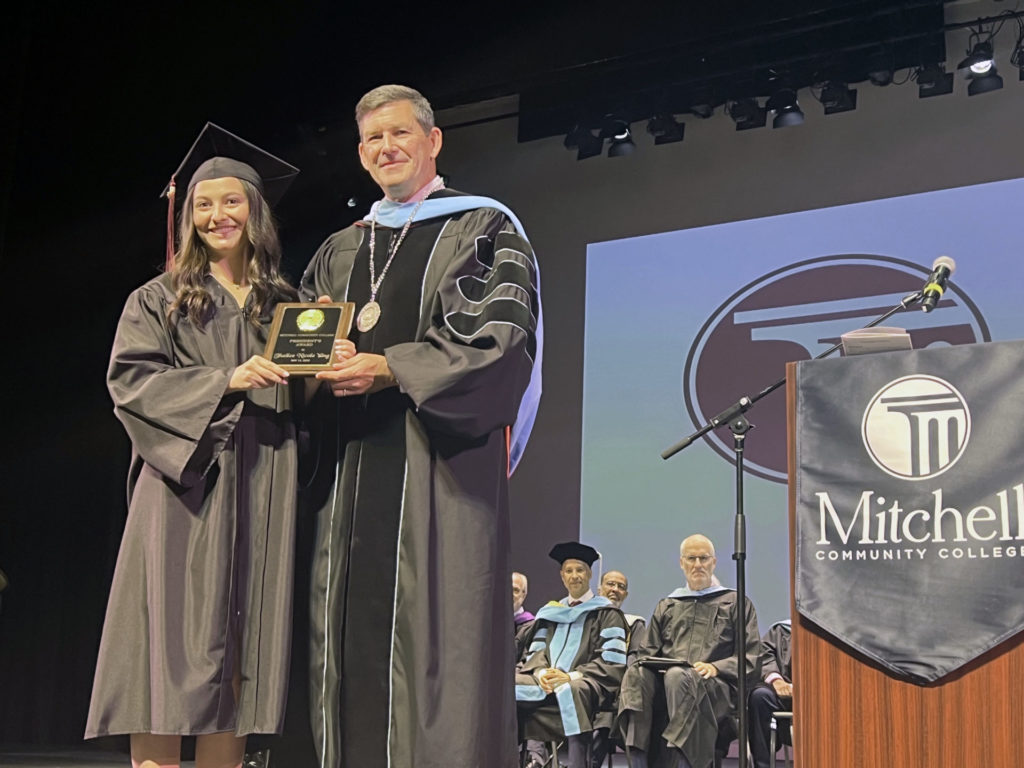 "With every ending, there is a beginning. There are so many opportunities for you and when that opportunity knocks, be sure to open the door," Brewer said. "And if there is no door, create one for yourself. Whether you are entering into the world of work or moving on to further your education, continue to grow, to change, to evolve, to have empathy for others, to practice gratitude, to take some risks, and keep an open mind.
"There is no script for what lies ahead of you. It's all for you to make. We all know that you have what it takes within you to be successful," he said.
Two students received special recognition during the ceremony.
The President's Award, which recognizes a graduating student who has one of the highest grade-point averages on all work completed at Mitchell, was presented to Thailee Nicole Yang. While pursuing her associate in arts degree, Yang has maintained a 4.0 gpa during her time at Mitchell and plans to transfer to the University of North Carolina Charlotte to pursue a bachelor's degree in marketing. Yang is very active in the community and has volunteered her time for several great causes, such as The Dove House Children's Advocacy Center and Purple Heart Homes. She thanked those at Mitchell who played an important role in helping her to grow and succeed.
The Academic Excellence Award, presented by the N.C. Community College System to outstanding students from the 58 community colleges in the system, was awarded to Ryan Rodriguez, who received his Associate in Applied Science degree in Human Services Technology while maintaining a 4.0 gpa. He has also completed a certification in Human Services and Substance Abuse. Rodriguez plans to use his knowledge to become a licensed addictions counselor to help those struggling with substance abuse disorders. He attributes his college success to those at Mitchell who have encouraged him to succeed.
Dr. Ralph Bentley, chairman of Mitchell's Board of Trustees, encouraged all of the graduates to enjoy their big day.
"Savor your success," he said. "And encourage someone else to follow your path."
Matt Doherty, a nationally recognized motivational speaker, best-selling author, media personality and former UNC Tar Heels basketball coach, delivered the graduation address.
"Steve Jobs, Tom Hanks, Morgan Freeman, Astronaut Eileen Collins, Star Wars Director George Lucas, my wife and two of my sisters — what do they all have in common?" Doherty said. "They all attended community colleges," shared Doherty. "I'm a big fan of community colleges. Community colleges are a vital source of education in America. They offer tremendous value and have jumpstarted many successful stories.
"Tom Hanks once wrote an article for the New York Times with the title, 'I Owe it all to Community College,' " continued Doherty. "Congratulations! You made a wise decision to attend Mitchell Community College. I'm excited for you as you start the next chapter in your lives. You have a great foundation for success. But it won't be easy."
Doherty recalled his leadership journey since being part of the 1982 National Championship team with Michael Jordan at UNC. Doherty's professional experience also includes serving as a head coach at Notre Dame, FAU and SMU. He was the AP National Coach of the Year in 2001.
During his graduation address, Doherty offered words of wisdom on his three keys to success: start, fail, rebound.
Doherty used his own personal career as an example of this philosophy. After being drafted in the sixth round of the 1984 NBA Draft by the Cleveland Cavaliers, and then being cut from that team, Doherty shared that he didn't embrace failure. Not at that time.
"I was bitter. I was hurt. I was embarrassed. I loved basketball but I didn't feel like it loved me back," he said.
After four years away from the sport, Doherty found a new way to engage in his passion. Doherty began his coaching career at Davidson College, and 11 years later he became the head coach at the University of North Carolina.
"Success is never linear. It's not a straight line. There are going to be peaks and valleys. And I often wonder if I would have made the NBA, would I have become the head coach at North Carolina? Maybe. Maybe not," said Doherty.
Two short years later, Doherty was asked to leave due to questions about his leadership.
"I failed. Again," said Doherty. "However, this time I didn't run from failure. I embraced it. I rebounded. I decided to get better not bitter. I went on a leadership journey to learn and grow."
Doherty concluded his speech by sharing three "knows of leadership" — Know yourself, know your team, and know the truth. Additionally, he encouraged graduates to surround themselves with great role models, mentors and truth-tellers who will support, challenge, and mentor them.
"So, who's on your team?" concluded Doherty. "Your life is nothing but a series of decisions and dealing with the consequences. The better decisions you make, the better your life will be. You made a great decision to attend Mitchell Community College. Congratulations on seeing it through. There are endless opportunities in front of you.
"You're on your way. I wish you nothing but the best. Just remember one thing, when you're faced with adversity: rebound."
Photo Gallery