BY KARISSA MILLER
A group of Cloverleaf Elementary School fifth-graders got up close and personal with all kinds of large airplanes, including an F-15 fighter aircraft, at the N.C. National Guard Air Base, during a week-long field trip.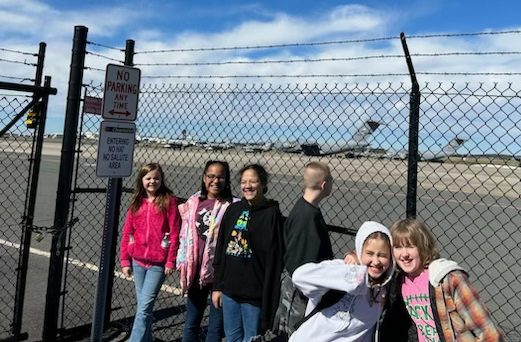 The STEM-learning experience was provided by the U.S. Department of Defense through a program at Charlotte-Douglas International Airport called STARBASE.
"It's an opportunity of a lifetime for our students," Principal Andy Mehall said. "Any program that has a science focus is a win for our kids."
All fifth-grade classes spent five days at the National Guard Air Base. Before coming to the base, all students had to get clearance.
Mehall conducted an informal survey in the classrooms to see how many students have been to an airport and or traveled on an airplane. Only around 20 percent of the school's 86 fifth-graders has been to an airport, according to the principal.
Mehall said the experience will expand students' knowledge beyond the school's International Baccalaureate Primary Years curriculum and what happens in their community.
Each student received a workbook and the curriculum is heavily based in science and math. There is a dedicated classroom where students learn from a teacher on the base. Students interact with military personnel to explore careers and observe STEM applications in the "real world." During the week, they toured a hanger and climbed into a cockpit, among other unique experiences.
There is no cost to Cloverleaf or Iredell-Statesville Schools for the program. STARBASE typically partners with underserved and at-risk schools.
Funds from Cloverleaf's budget have been set aside to pay for bus transportation to and from the airport via district buses. Additionally, scheduling barriers were removed to make sure that all students could participate.
At the end of the school year, students and teacher will each get their own rocket that, courtesy of STARBASE that they will launch up into the sky.
The STARBASE program first originated in Detroit, Mich., as Project STARS in 1991. The original curriculum focused on exposing at-risk youth in grades 4-6 grade to innovative hands-on activities in science, technology, and mathematics based on the physics of flight.
In 1993, Congress appropriated funds for STARBASE and piloted the program in seven states. The program's success relies on collaboration between the sponsoring military unit and STARBASE Academy, the school district, and local communities.
BY THE NUMBERS
• During this decade, employment in science and engineering occupations is expected to increase at almost four times the rate for all occupations.
• In 2015, just 40 percent of U.S. fourth-graders were rated at or above proficient in a national mathematics assessment.
• Only 42 percent of U.S. high school graduates in 2015 met the ACT College Readiness Benchmark in mathematics and only 36 percent in science.
LEARN MORE
Visit https://dodstarbase.org to learn more about the STARBASE youth program.