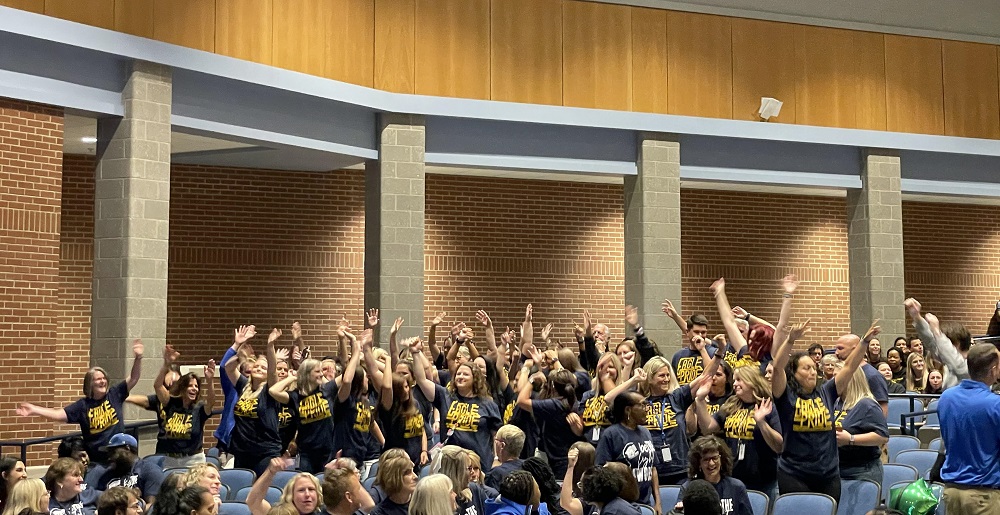 BY MIKE FUHRMAN
The Mooresville Graded School District knows how to kick off a new school year.
During the district's nearly two-hour convocation on Thursday morning, MGSD teachers, administrators and support staff danced, sang and chanted. They also celebrated excellence and got a powerful reminder of why their daily work is so important.
Spirit Award
The event kicked off with a rowdy contest in which staff from each school showed their spirit by dancing and singing along with a song they chose for the competition. Props, flags and matching spirit wear added to the event.
After watching all of the performances, MGSD Board of Education members huddled and declared Mooresville Middle School the winner.
Support Staff Awards
The following MGSD employees were honored as the best of the best in their respective professions:
♦ Velrice Wilson, custodian of the year;
♦ Mike Theisen, bus driver of the year;
♦ Courtney Reid, school nutrition employee of the year;
♦ Jacob Russ, maintenance staff of the year;
♦ Kim Cline, technology staff of the year;
♦ Missy Foley, BASP of the year; and
♦ Kim Raper, office professional of the year
Principal of the Year
Mooresville High Principal Samone Graham was recognized as the MGSD Principal of the Year.
Beginning Teacher of the Year
Mooresville High teacher William Gray was honored as the MGSD Beginning Teacher of Year.
The following teachers were also nominated for this award: Alaina Shaw (Park View Elementary), Alexis Hollingshead (Rocky River Elementary), Jazmina Torres (South Elementary), Victoria McGinnis (East Mooresville Intermediate), Jordan Caldwell (Mooresville Intermediate), and Alyssa Zocchi (Mooresville Middle.)
Teacher of the Year
Jeff and Grant Shoe of Mooresville Ford presented the MGSD Teacher of the Year Award to Mooresville High teacher Jennifer Lloyd. The award came with the keys to a 2023 Ford Escape.
Lloyd, a 20-year teacher who has worked MGSD for three years, expressed her appreciation for her colleagues at Mooresville High.
"Thanks for making this the place I want to come every day," Lloyd said. "We are all in — all the time."
She recalled running into a former student at a community event in Statesville years ago. The young man, who had struggled with behavioral issues during high school, was working as a paralegal and preparing to go to law school.
That encounter taught Lloyd a lesson that she shared with her fellow MGSD employees on Thursday.
"We may not always get their best," she said, "but it's important that they always get ours."
Other nominees for this award were: Marjorie Finan (Park View Elementary), Danielle Mangouri (Rocky River Elementary), Cindy Booker (South Elementary), Aimee Slagle (East Mooresville Intermediate), Jacquelyn McKay (Mooresville Intermediate), Angie Peterson (Mooresville Middle) and Yevette Peveler (MIWAYE).
Vision, Mission and Values
Superintendent Jason Gardner reviewed the district's recently updated vision, mission and core values.
The vision — "Creating a better community by empowering every individual to grow, thrive and succeed! — underpins everything the district does, Gardner explained.
That statement "represents our desire to focus on how our work has an impact on the success of our community as well as our desire to empower students and staff to continuously improve," he said. "The vision for our work isn't focused on a test score or a single data point, instead a focus on doing our part to make our community the best it can be."
Recruiting, hiring and retaining the best teachers, administrators and support staff, he said, will pay dividends for students and the community.
Gardner challenged all district employees to connect their daily work to the mission of the district.
Attendees then watched a montage of video clips of MGSD students talking about the "special people" who worked in their schools.
Students of all ages talked about their relationships with teachers, custodians, nutrition workers who shared a meal, a hug or a sympathetic ear, who pushed them to do their best and be the best version of themselves.
"She loves us with all her might," a young student said.
"She makes me feel special," another added.
"He made sure I know I have a place here, and I'm heard, and my voice is important," a high school student said.
The video, Gardner said, was a reminder of the value of what happens in schools across the district every day.
"I hope that hearing their responses helps you realize that you can make a difference in a child's life in so many ways. That is why we do this work, and that's what it means when we say, 'We Are … Mooresville."
Board Chair Greg Whitfield was visibly moved by the student testimonials.
Those students, he said, summed up one of the points he wanted to make.
"It's about relationships," Whitfield said. "It's always about relationships."
Photos