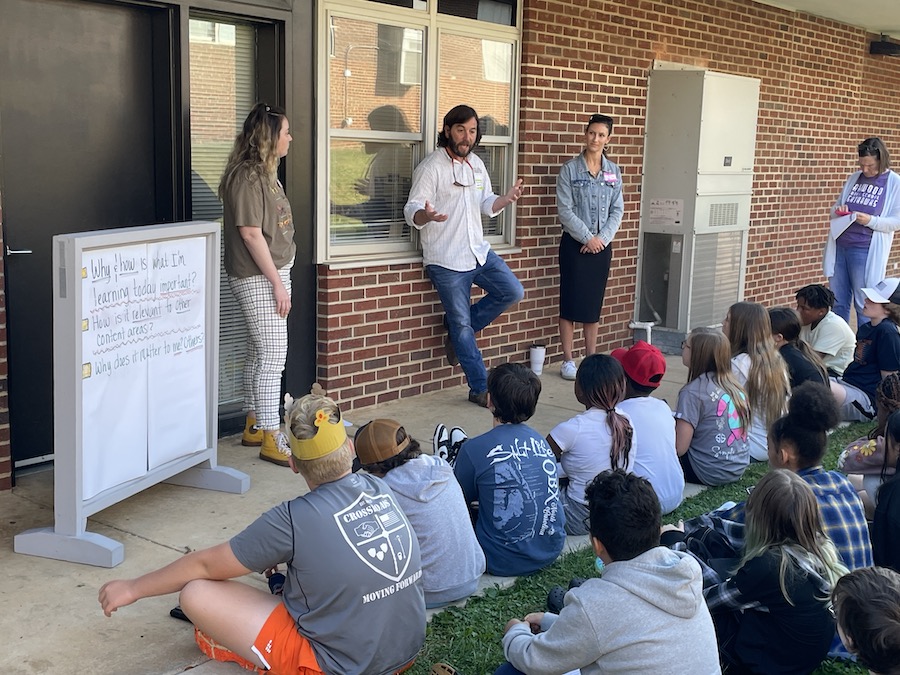 BY KARISSA MILLER
Students at Oakwood Middle, an International Baccalaureate World School, recently had an opportunity to learn about service organizations that make a difference in the community during the school's inaugural community fair.
"This is the first time we are piloting a community fair. We've partnered with organizations that have shown an interest in partnering with our students ages 11-14," explained Oakwood IB coordinator Sarah Pittman.
Service is at the core of the school's mission and is part of the IB program requirements, Principal Carrie Tulbert said.
"Students learn the importance of serving others and giving back," Tolbert explained.
During the event, groups of students traveled throughout the school to meet with representatives of organizations that piqued their interests. Local city and county government leaders and community food insecurity agencies were among the participants.
Richard Griggs, the director of Statesville Recreation & Parks Department, answered questions and met with students. He's also an Oakwood parent and said that he likes that the IB program emphasizes serving others here in the community and beyond.
"It's an invaluable learning experience and a way to strengthen and grow the community," Griggs said.
The Statesville Recreation & Parks Department offers volunteer opportunities for students through the Special Olympics and other events.
"I got to learn more about things and services they offered in our community," said student Ava Waugh, who noted that she's interested in volunteering with the Special Olympics.
Superintendent Jeff James, school board member Abby Trent and other Iredell-Statesville Schools leaders dropped by to check out the event.
"It's always good to get our kids connected and engaged to our community," James said. "Anytime we can get students engaged in the community it ties them back to Iredell County."
"My hope would be that they find this is a great place to live and raise a family. So, when they do graduate, we can keep that talent here," he added.
Trent said she was honored to participate in the event.
"It is extremely important to educate our students on the needs and opportunities that are available here in our community. This is a great chance for our students to preview potential career paths later in life," Trent said.
According to Pittman, each grade level at Oakwood will be assigned a project that will be carried out during the school year.
Sixth-graders will focus on food insecurity. They will conduct canned food drives and learn what local food insecurity looks like.
Seventh-graders will work in small groups in teacher-led projects.
Eighth-graders will work on a community project that reflects the needs and interests of the community. The project can be inspired by what they learned at the community fair or another topic of their choosing.
Photos